Tekashi 6ix9ine's Baby Mama Responds To Claims She Slept With Rapper's Ex-Manager
4 February 2019, 15:26
Sara Molina, who claims she dated 6ix9ine for seven years prior to his fame, has clapped back at people targeting her for allegedly sleeping with the rapper's former manager, Shotti.
Tekashi 6ix9ine's ex-girlfriend has fired back after people accused her of sleeping with the rapper's former manager, Shotti.
Sara Molina, who shares a three-year-old daughter with the 'DUMMY BOY' rapper, was called out by DJ Akademiks after he suggested that she was called to court to provide a witness statement surrounding 6ix9ine's alleged crimes.
The blogger also suggested that Molina slept with a member of 6ix9ine's crew, his ex-manager Shotti. Shotti was arrested alongside 6ix9ine on multiple charges last year.
During an Instagram Live, Molina appeared to address the claims. "Look, I don't give a f*ck about nothing. Y'all can say whatever you want, call me a thot or whatever... I'm still able to walk outside," she said.
"I coul- B*tches actually recover from being h*es! If y'all really wanna do that... but can anybody actually recover from being a rat?"
"I see b*tches do it all the time," she added. "Look, Blac Chyna good, Amber Rose good, y'all ain't tell me nothing. Can't tell those b*tches nothing too cos look at their bank accounts."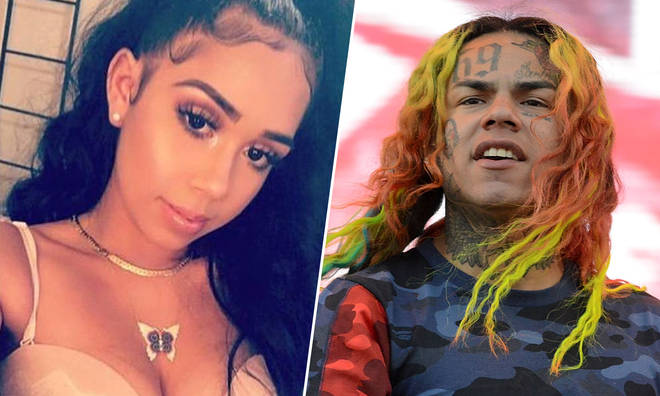 Meanwhile, Tekashi has reportedly pleaded guilty to nine federal racketeering, weapons and drug charges, and may be facing up to 47 years in prison.
The 'GUMMO' rapper allegedly identified at least one of his associates over the weekend, and subsequently drew criticism from his peers for "snitching" after the news broke.
His current girlfriend Jade recently fired back at critics slamming her beau after the news broke.