Tekashi 6ix9ine's Shock Guilty Plea Exposed In Full Court Transcript
15 February 2019, 10:48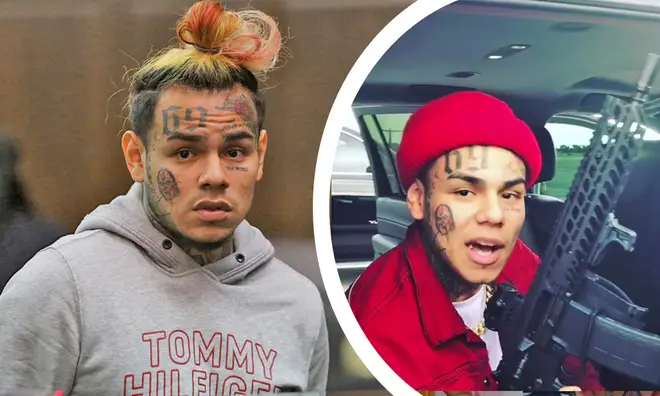 Tekashi 6ix9ine's guilty court confession has been revealed in full for the very first time, whilst he's also addressed mental health issues.
After Tekashi 6ix9ine was arrested back in November 2018 for racketeering and weapons charges, the 'Dummy Boy' rapper pleaded guilty to a number of the alleged crimes prompting Meek Mill to speak out against him.
Now the court transcript revealing 6ix9ine's guilty plea has been revealed to the public for the very first time and it reveals his battle with mental health.
The 6ix9ine transcript was obtained by Complex and in it the 'GUMMO' rapper admits to being a member of the Nine Trey Blood Gang
6ix9ine says, "As a member of Nine Trey, the enterprise engaged in such activities including shooting at people, robbing people, and at times drug trafficking."
Appearing to speak about a specific incident where fellow rapper Chief Keef was shot at in Times Square back in 2018, 6ix9ine states that he "paid a person to shoot at a rival member of Nine Trey to scare him."
Complex revealed that 6ix9ine admits to being involved in three different violent incidents in 2018: an attempted murder on March 20, a robbery on April 3, and a shooting on June 2.
According to the publication 6ix9ine is also asked by the judge whether he has ever been hospitalised or treated for any mental illness to which 6ix9ine reveals he was suffering from depression and post-traumatic stress around 2011/12 after his stepfather was murdered.
He says, "I started becoming just rebelling and not showering, like depression stuff" before revealing that he was prescribed medication but never took it becase "My mom used, like, Mexican remedies".
6ix9ine's guilty plea was originally made on 23rd January 2019 but was withheld until 6ix9ine's alleged kidnapper Anthony Ellison and accused Chief Keef shooter Kintea "Kooda B" McKenzie were taken into custody.
The judge told 6ix9ine that if he successfully cooperates with the police investigations he could face a reduced sentence - based on the current charges, if found guilty 6ix9ine faces a minimum of 47 years in prison.
> Download Our Free App For All The 6ix9ine Music News!