Nicki Minaj Responds After Being Accused Of Leaking Cardi B's Phone Number
29 October 2018, 12:12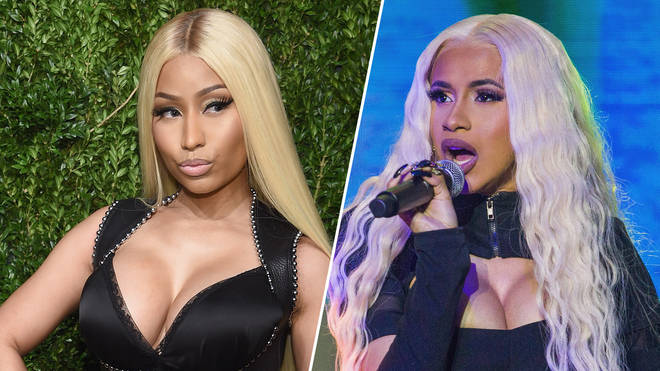 The 'Queen' rapper has spoken out after Cardi B's younger sister, Hennessy Carolina, accused her of leaking the 'Money' rapper's phone number.
Nicki Minaj has spoken out after being accused of leaking Cardi B's phone number by Cardi's sister, Hennessy Carolina.
During a lengthy Instagram rant, Carolina claimed the 'Queen' rapper shared Cardi's number to some of her fan pages, resulting in the Barbz allegedly sending threatening messages to Cardi in Nicki's honour.
Hennessy posted screenshots of alleged conversations taken from the 'Invasion Of Privacy' rapper's phone from strangers who obtained the number, including death threats directed towards Cardi's daughter Kulture.
"Ya asking why I'm beefing with a fan base but ya not asking why someone with so much influence would use their influence to manipulate their fans to spread so much negativity and hate," she wrote in the since-deleted post.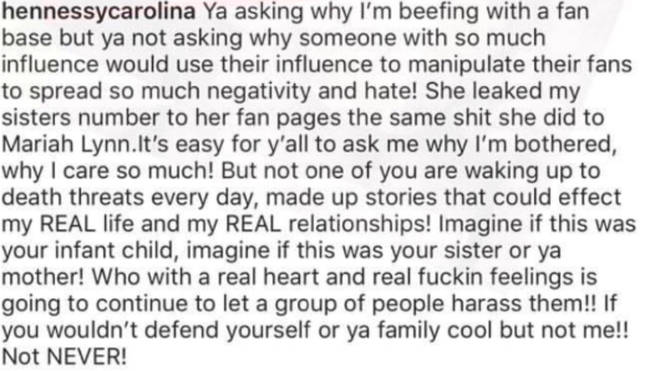 "She leaked my sisters number to her fan pages the same shit she did to Mariah Lynn. It's easy for y'all to ask my why I'm bothered, why I care so much."
She continued, "But not one of you is waking up to death threats every day, made up stories that can effect my real life and real relationships."
'Imagine if this was your infant child, imagine if this was your sister or ya mother! Who with a real heart and real f**kin feelings is going to continue to let a group of people harass them!! If you wouldn't defend yourself or ya family cool but not me!! Not NEVER!"
Cardi and Nicki continue their public feud, almost two months after coming face to face at New York Fashion Week where Cardi threw a shoe at the 'Chun-Li' rapper.
After a fan advised Nicki to "sue" Cardi and her sister over the claims - labelling the situation as "defamation of character" - Nicki responded with "smh. To God be the glory."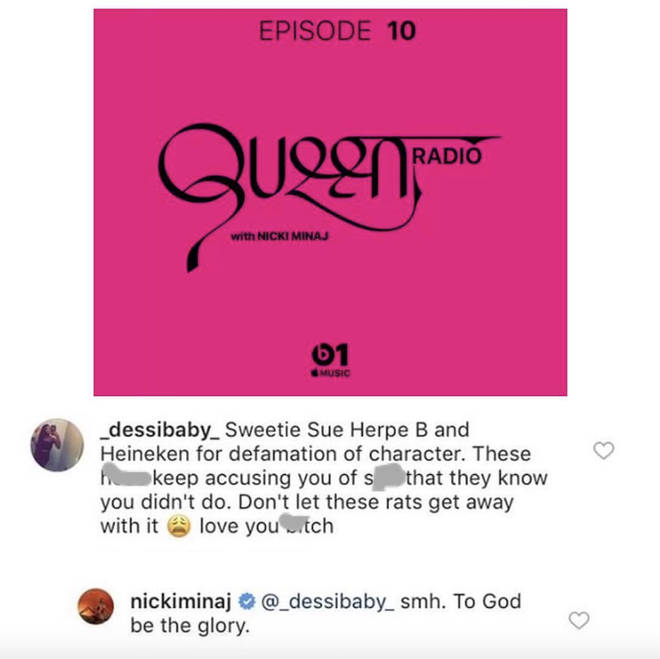 Cardi is yet to respond to the situation. The Bronx native, who dropped her new song 'Money' last week, recently responded to rumours of a possible diss track aimed at Nicki.
The rapper lashed out at TMZ for spreading the false claims, as well as leaking the first images of her baby girl to the public.