Cardi B Responds To Rumours That She's Dropping A Nicki Minaj Diss Track
18 October 2018, 10:28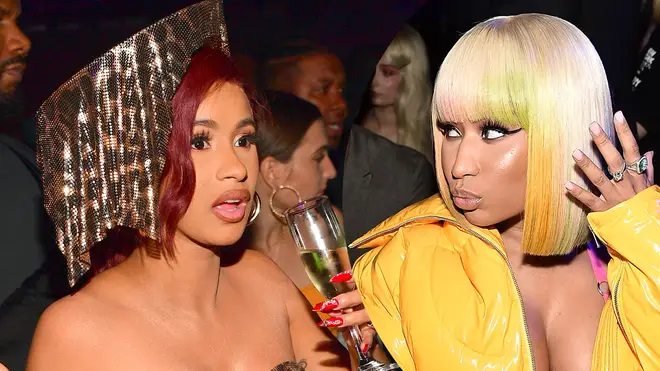 The 'I Like It' rapper was rumoured to have a diss track ready to go aimed at 'Queen' rapstress Nicki Minaj amid their ongoing beef.
Cardi B has fired back at reports claiming she's recorded a "serious" diss track aimed at her rap rival, Nicki Minaj.
An initial report published by TMZ stated that the 'I Like It' rapstress was readying some savage bars for the 'Queen' rapper, leaving her team conflicted as to whether she should release it or not.
However, hours after the report surfaced, Cardi - who shares a three-month old baby daughter Kulture Kiari with her husband, Migos rapper Offset - slammed the publication for spreading false rumours.
Taking to Instagram, the New York native denied claims of an alleged diss track, showing screenshots of text conversations with a TMZ representative, before blasting them for leaking recent photos of her and her baby girl.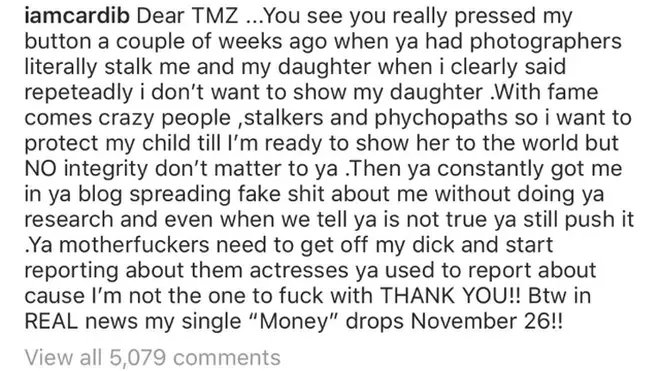 "You see you really pressed my button a couple of weeks ago when ya had photographers literally stalk me and my daughter when I clearly said repeatedly I don't want to show my daughter," she wrote.
"With fame comes crazy people, stalkers, and phychopaths so I want to protect my child 'till I'm ready to show her to the world but NO integrity don't matter to ya," she added, before addressing the alleged Nicki diss track.
"Then ya constantly got me in ya blog spreading fake sh*t about me without doing ya research and even when we tell ya is not true ya still push it. Ya motherf*ckers need to get off my d*ck and start reporting about them actresses ya used to report about cause I'm not one to f*ck with THANK YOU!"
Cardi rounded off her rant by plugging her upcoming single, writing "Btw in REAL news my single 'Money' drops November 26!!"
Nicki is yet to respond to the reports.