Nicki Minaj Drops Major Pregnancy Hint In New Lyrics Amid Ongoing Baby Rumours
29 July 2019, 12:03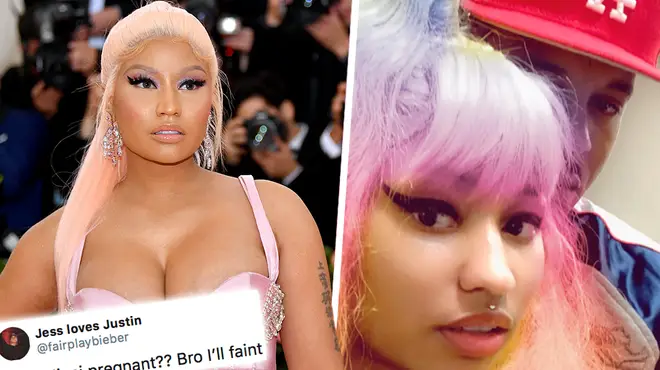 Queens rapper Nicki Minaj has hinted at her pregnancy in her new lyrics on Chance The Rapper's song "Zanies And fools". The Barbz have gone wild on Twitter.
Nicki Minaj has sparked new pregnancy rumours after the "Barbie Dreams" rapper spits suggestive lyrics in her new song on Chance The Rapper's new album.
Last month, the 36 year-old rapper had fans speculating last month that she's expecting and have previously hinted that she is engaged to her boyfriend Kenneth 'Zoo' Petty, 41.
Nicki seemingly teased that she is pregnant and engaged in her verse for Chance's track 'Zanies And Fools', which was released on Friday (Jul 26th).
In the song, Nicki raps: "I met my husband when I was 17 out in Queens / If you love it, let it go, now I know what that means."
She drops the bomb in this lyric "He the Clyde to my Bonnie / 'bout to walk down the aisle and be a mommy. Oh, I remember when I cried like, 'Why me?' / Now I wouldn't exchange my life for Armani."
"The Barbz" speculated that Minaj has been pregnant for a couple of months since the rapper shouted "I'm Pregnant" on Queen Radio. She later revealed the two have their marriage license.
Due to Petty having a criminal record after he was convicted of first-degree attempted rape in 1994 and first-degree manslaughter in 1994, some of Nicki's fans have found it hard to accept him.
After the hint Nicki dropped, her fans went wild on Twitter. See fan reactions below.
if nicki minaj is actually pregnant im about to be born again see yall in 9 months

— sorry, we're closed (@coburgcoochie) July 26, 2019
so nicki minaj getting married and she pregnant?

— mixxxx 💓 (@mmarissaaaa_) July 27, 2019
Nicki Minaj pregnant?? Bro I'll faint

— Jess loves Justin (@fairplaybieber) July 29, 2019