Nicki Minaj Accused Of Threatening Writer Over Her Savage "Touching 40" Comments
12 July 2019, 11:18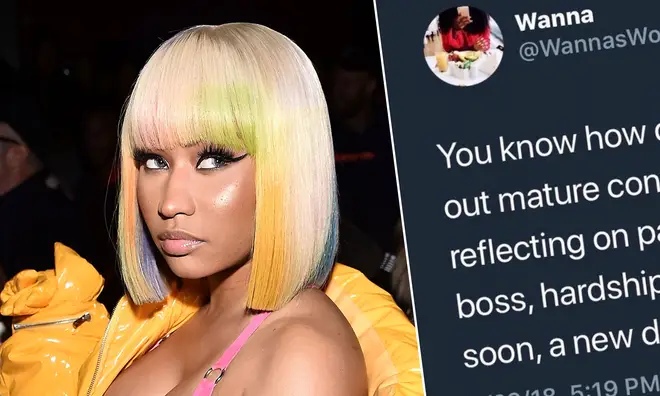 The 'MEGATRON' rapper is being accused of threatening a writer who got fired over a tweet about Minaj and the content of her music.
Nicki Minaj is being accused of threatening a writer who wrote a tweet about her music last year.
Tuwanna Thompson is allegedly suing her former employer Karen Civil for firing her over the tweet. According to The Blast, she's worked for Civil's website as an intern, and is now suing Civil, her website, and the CEO, Christian Emiliano.
"You know how dope it would be if Nicki put out mature content?" wrote Thompson in June last year. "Just reflecting on past relationships, being a boss, hardships, etc. She's touching 40 soon, a new direction is needed."
The tweet soon went viral, even spurred a biting response from Minaj herself. Thompson shared the response to her Twitter, and claimed that the rapper's fans were ending her death threats.
And, as previously mentioned, the tweet, which Thompson describes as "innocent", ended up getting Thompson fired from her job with Civil, despite her deleting the tweet upon her employer's request.
"The nature of Minaj's messages, which were vulgar and tasteless, shocked PLAINTIFF, who in turn shared with her followers on Twitter that had received a DM from Minaj that was "disgusting" and explained that she feared the backlash of publicly posting the DM," the suit says.
The report states that Thompson believes the CEO, Christian Emiliano, damaged her reputation with his comments and affected her ability to get work after he shared a "public rant" about her on Twitter.
Thompson is seeking $1.5 million in damages for defamation.