Here's Why Nicki Minaj Fans Are Begging Tracy Chapman To Clear Her 'Queen' Sample
1 August 2018, 10:34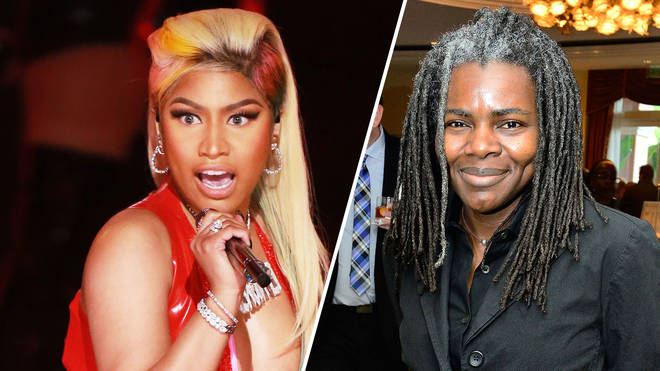 Minaj has threatened to delay her upcoming album's release - again.
Nicki Minaj is contemplating pushing back the release of her upcoming album 'Queen', and her fans are generally unimpressed.
The 'Chun-Li' rapper has already delayed the release once, pushing it back to rescheduled date of 10th August. However, it appears that one of the album's tracks is proving quite the problem.
A sample and a feature from Tracy Chapman is yet to be cleared and, after hailing Chapman as "one of the greatest rappers of all time", Minaj has personally asked for her permission.
"Tracy Chapman, can you please hit me," Nicki tweeted, before asking her fans whether she should delay the release of the album or leave it as it is, but without the Chapman sample.
"You guys can only imagine how much this means to me. It's such a perfect body of work," she wrote. The results of the poll came back almost 50/50.
Since I may have asked it wrong. 🤭🦄 vote. You guys can only imagine how much this means to me. It's such a perfect body of work 🎈love you. Long time.

— Chun-Li (@NICKIMINAJ) August 1, 2018
However, some fans were left furious after the rapper suggested that she delay the release of 'Queen' again, while many couldn't believe that the sample hadn't already been cleared.
Some fans also pointed out that if she did move it forward to the 17th August, the album would coincide with the release of Ariana Grande's new record 'Sweetener', meaning that the friends and 'Bed' collaborators would essentially be competing for the number one spot.
In attempts to get the sample cleared in time, fans took to Instagram to personally message Chapman and ask her to cooperate. Check out some of their responses below.
Don't push the album back. We can get ahold of Tracy Chapman.

— Nicki Minaj News (@NickiDaily) August 1, 2018
okay so Tracy Chapman is signed to Atlantic Records, @NICKIMINAJ don't push that album back! You will wait for months to get that track cleared, either accept the law suit or drop the track from the album. I changed my mind

— Price-Li Tingz (@iFeelFreedxm) August 1, 2018
Chapman is ye to officially respond to the requests.