Who is Kanye West rumoured to have 'cheated on Kim Kardashian' with?
16 September 2021, 16:03
Fans are speculating about who Kanye West may have allegedly cheated on Kim Kardashian with.
Kanye West has been rumoured to have cheated on Kim Kardashian months after the birth of their second child, Saint – who is now five years-old.
According to The Sun's sources, the 44-year-old rapper allegedly hooked up with an "A-list singer".
Kanye's cheating is said to have taken place while his wife Kim struggled with her confidence months after the arrival of their son.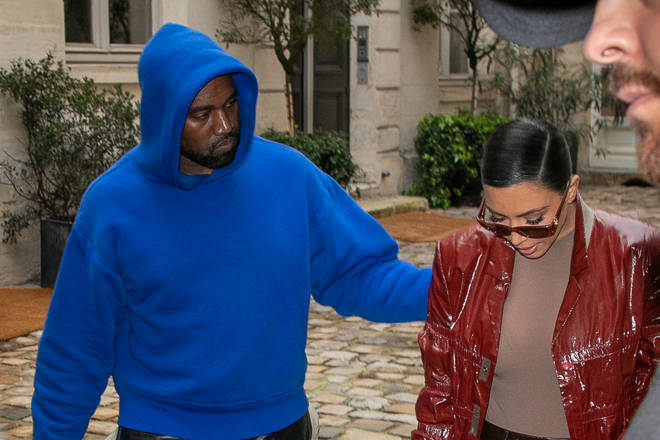 Sources have claimed that Kanye cheated on the beauty mogul while he was "mainly living in his bachelor pad in Hollywood."
here's everything we know about the cheating scandal.
Who is Kanye West rumoured to have cheated with?

While the person Kanye West allegedly cheated on Kim Kardashian with has not been named, an insider has claimed 'Kanye cheated on Kim with an A-list singer.'

The insider further claimed: 'At the time it happened, Kanye was mainly living in his bachelor pad in Hollywood because it was closer to his studio and he wasn't going to go home to Kim and newborn baby when he'd been partying late in the studio.'

Kanye West and Kim Kardashian share four children together. Picture: Getty

The source continued on to say that Kanye's infidelity came during a time where Kim felt body-conscious.

She had put herself through early morning exercise routines after gaining weight from her pregnancy.

At this moment in time, 'Ye allegedly spent a lot of time away from the family home. 

The source added: "It's really sad. She blamed herself and vowed to 'bounce back' hotter than ever."

Why do people think Kanye West cheated on Kim Kardashian?

Kanye West released his highly-anticipated new album 'Donda' last month, with 27-tracks for fans to unpack.

Fans were taken aback by the lyrics by his song whole 'Hurricane' featuring The Weeknd.

Kim Kardashian and Kanye West had been married doe six years before she filed for divorce. Picture: Getty

The track has been widely discussed as fans think the lyrics are hinting to Kanye cheating on Kim.

The lyrics to the track reads: "Here I go actin' too rich / Here I go with a new chick / And I know what the truth is / Still playin' after two kids / It's a lot to digest when your life always movin'."

Fans began speculating about the lyric online, pointing out that Kanye West may have cheated on Kim Kardashian after they had two kids.

Kanye fans have also suspected that he was concerned about Kim possibly cheating on him on his new track 'Lord I Need You'.

'Three hours to get back from Palm Springs, huh? / Who you know spend an hour in Walgreens, huh?' raps West.

what do you think? Let us know @CapitalXTRA