Kim Kardashian Responds After Life-Threatening Wildfire Reaches Her Family Home
12 November 2018, 11:53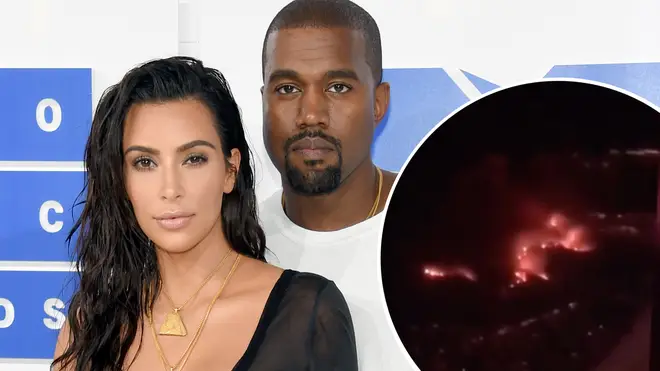 The 'Keeping Up With The Kardashians' star revealed that the ongoing California wildfires have reached the Hidden Hills property she shares with Kanye West and their children.
Kim Kardashian and Kanye West are among the thousands of residents that have been forced to evacuate their homes as a result of the ongoing Southern California wildfires.
The 38-year-old reality star shares a multi-million dollar property with husband Kanye West in the gated Hidden Hills community, which is one of the areas affected by what is being called the most destructive fire in California history.
TMZ reported that the fire had reached the sprawling estate of the couple over the weekend, and the flames has actually reached their property, which was completed earlier this year.
Kim, her family and their security team had evacuated the home as the flames approached the home, before the KKW Beauty owner confirmed that the flames "are now more contained."
"I heard the flames have hit our property at our home in Hidden Hills but now are more contained and have stopped at the moment," she wrote. "It doesn't seems like it is getting worse right now, I just pray the winds are in our favor.
"God is good. I'm just praying everyone is safe." Kim also thanked the firefighters for their continued efforts.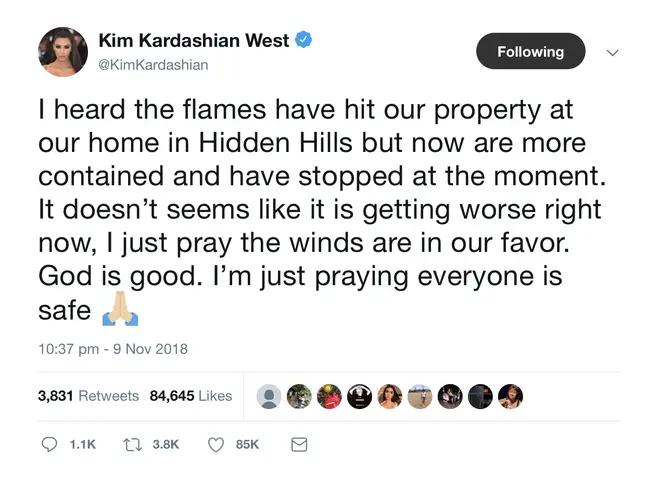 On Friday, Kanye West tweeted confirmation that his family were safe. "Thank you for everyone's prayers. Our family is safe and close," he wrote.
Kim's stepfather Cailtyn Jenner faced a different situation as her Malibu home was burned down in the Woolsey Fire, while stars including Miley Cyrus and Gerard Butler also lost their homes as a result.
At least 29 civilians have been killed by Camp Fire, while two people reportedly died in the Woolsey Fire. The third fire, Hill Fire, resulted in a mandatory evacuation of nearly 1,200 homes.
All three fires have spread over tens of thousands of acres of land and are not currently under control, reports claim.