What are Kim Kardashian & Kanye West's kids called? Names of their four children revealed
6 January 2021, 15:24 | Updated: 20 July 2023, 12:50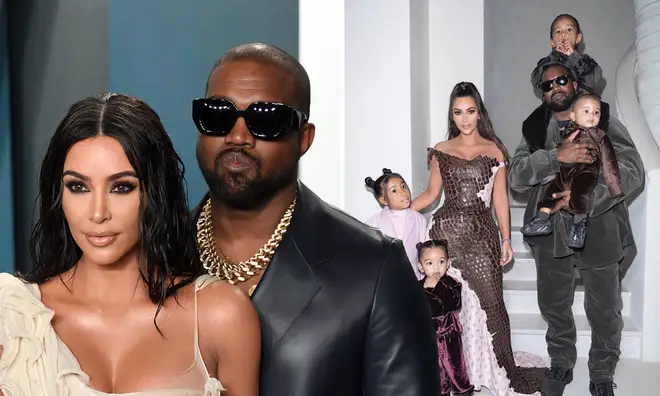 Here's the low-down on Kim Kardashian and Kanye West's kids - their full names, their name meanings, how old they are more.
Kim Kardashian and Kanye West have four children, and their names are pretty original.
The KKW Beauty owner and the 'Wash Us In The Blood' rapper welcomed their first child, a daughter named North, back in June 2013, almost a year before the power couple got married in Florence, Italy.
Since then, they've added three more children to their growing family. Here's the what you need to know about the Kardashian-West offspring.
Psalm West

Psalm West was born on May 9th, 2019.

Picture: Instagram

Psalm West is the youngest child of Kim and Kanye, and is the couple's second son. Psalm was born May 9, 2019, while his name was revealed about a week later by his mother, alongside a picture of him snuggled in his crib.

Like his older sister Chicago, Psalm was born via a surrogate. On May 10, Kim announced his birth by tweeting, "He's here and he's perfect!"

"He's also Chicago's twin lol I'm sure he will change a lot but now he looks just like her," she added.

The name Psalm is pronounced 'Saam,' and has religious connotations. Originating from Hebrew, a psalm is a song or hymn used in Christian or Jewish worship. A psalm can also be defined as a sacred poem, or prayer found in the Book of Psalms.

His star sign is Taurus.

Chicago West

Chicago West was born January 15th, 2018.

Picture: Instagram

Chicago West is the third-born child of Kim and Kanye, and the couple's second daughter. Chicago, often shorted to 'Chi' (pronounced 'shy') was born on January 15th, 2018.

Chicago was the first of Kim's children to be born via a surrogate. Kim experienced a dangerous health complication called preeclampsia during her first two pregnancies, so chose to use a surrogate for her next.

Kim and Kanye named their third child after Kanye's hometown. Interestingly, the name Chicago originates from the Native American word for "wild garlic," which once grew in abundance in the city.

Chicago's star sign is Capricorn.

Saint West

Saint West was born on December 5, 2015.

Picture: Instagram

Saint West is the second-born child of Kim and Kanye, and is the couple's first son. Saint was born December 5, 2015, and was the last of Kim's own natural pregnancies.

After suffering with pre-eclampsia during her first pregnancy, and placenta accreta after delivery, Kim underwent surgery to remove the placenta and scar tissue. After her second pregnancy, doctors advised against her carrying another child herself.

As for his name, 'Saint' means 'holy'. Kim and Kanye gave their son his name while Kim was pregnant because they had difficulties with his conception.

Saint West's star sign is Sagittarius.

North West

North West was born June 15, 2013.

Picture: Getty Images

North West is the first-born child of Kim and Kanye, and is the couple's eldest daughter. North was born on June 15, 2013 after Kim carried her through her first natural pregnancy.

The name 'North' has been described as a 'strong' name, while Kim's mother Kris Jenner once said that Kim chose the name because "North means highest power and she says that North is their highest point together."

North's name is sometimes shortened to 'Nori' or lengthened to 'Northie' by her family, particularly her mother Kim.

The reality star admitted that although the name actually started out as a rumour, once Anna Wintour (editor of US Vogue) told them she thought North was a 'genius name,' it stuck with the couple.

North West's star sign is Gemini.