Did Kanye West Just Diss Drake On His New Album?
1 June 2018, 10:36 | Updated: 1 June 2018, 12:41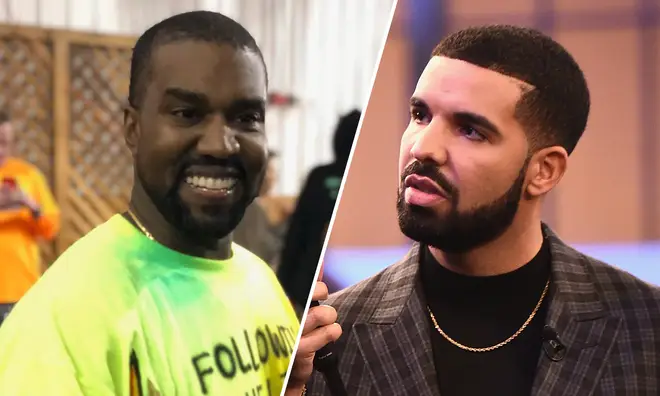 Fans are speculating.
Kanye West has previewed his highly anticipated new album, and people are already convinced he's coming for Drake.
Last night, the rapper held a star-studded listening party in Wyoming, where the majority of the record was written and recorded, to play the record for the first time.
Although the album - which is currently titled 'Ye' - is yet to surface on digital platforms, the event was live-streamed online and fans picked up on a number of name-drops within the songs.
On 'Make No Mistake', which appears to be the fifth track, one sharp-eared fan alleges that Kanye might be dissing Drake after the Canadian rapper called him out on his Pusha T diss track 'Duppy Freestyle'.
"Truth told, I like you / Truth told, too bold to type you / Too rich to fight you / Calm down, you light skin!" spits West. Fans took to Twitter in response to the alleged diss.
Anybody notice Kanye taking shots at drake in Make no mistake?👀 #YE

— Nisha Chauhan (@NishaChauhan_) June 1, 2018
On 'Duppy Freestyle', Drake pointed out that he wrote on West's album 'The Life Of Pablo' on tracks '30 Hours' and 'Father Stretch My Hands', which Kanye publicly thanked him for at the time.
Kanye is yet to confirm whether the track is about Drake, and Drake hasn't responded to the song. The OVO hitmaker is also yet to serve a comeback to Push's latest diss track, 'The Story Of Adidon'.
West's new album - reportedly titled 'Ye' - also namedrops Tristan Thompson, Russell Simmons and Sway, and at one point alludes to his controversial comments about slavery being a "choice."
People in attendance at the Wyoming party included Kim Kardashian, Pusha T, Kid Cudi, 2 Chainz, Jonah Hill, Chris Rock Teyana Taylor and Capital XTRA's very own Tim Westwood.