Drake 'Accidentally Reveals Rihanna Face Tattoo' In New Shirtless Instagram Pictures
20 June 2019, 10:48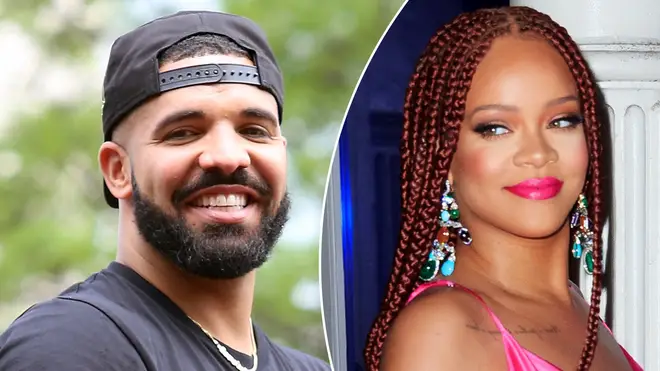 The 32-year-old rapper revealed he is in 'album mode' in a series of sun-soaked vacation pictures on Instagram this week, but fans are more focused on the mystery inking on his arm.
Drake is getting to work on another soon-to-be platinum-selling record, it appears, as the rapper revealed he's currently in 'album mode' on Instagram this week.
The 32-year-old 'No Guidance' hitmaker shared a series of tropical vacation pictures this week, taking things from the basketball court to the golfing range before chilling with an ice-cold spritzer in hand.
However, it's not just the steamy shirtless pictures that have got fans talking. In one series of shots, Drizzy can be seen sitting with a glass of wine by his side, and what appears to be a tattoo of a women on his inner arm.
It wasn't long before fans started commenting on the tattoo's resemblance to ex-girlfriend and on-off love interest Rihanna. "Drake has a tattoo of Rihanna on his arm, oh okay let me oop!" wrote one.
"I need a closeup of Drake's Rihanna tattoo," wrote another, white another added, "The fact that Drake has a tattoo of Rihanna irks me."
Obviously, it's unclear at this point whether the mystery inking is actually of the 'Needed Me' songstress, and Drake himself is yet to speak out on the rumour.
DRAKE HAS A RIHANNA TATTOO!!?!??

— RICA🌟 (@ulricaefite) June 19, 2019
This isn't the only portrait Drake has tattooed on his body. He also has portraits of Lil' Wayne, Sade, Aaliyah, his mother, uncle and grandmother, as well as his father Dennis Graham's mugshot.
After years of on-off dating, Rihanna and Drake reportedly called things off on October 2016 over conflicting schedules. Drake famously professed his love to the singer on stage at the VMA's earlier that summer.
Rihanna, who was recently named the world's wealthiest female musician, has since moved on with billionaire businessman Hassan Jameel, whom she is rumoured to be engaged to.