Drake Sparks New '85 Track Album' Rumours With Instagram Tease
16 September 2019, 15:29 | Updated: 16 September 2019, 15:35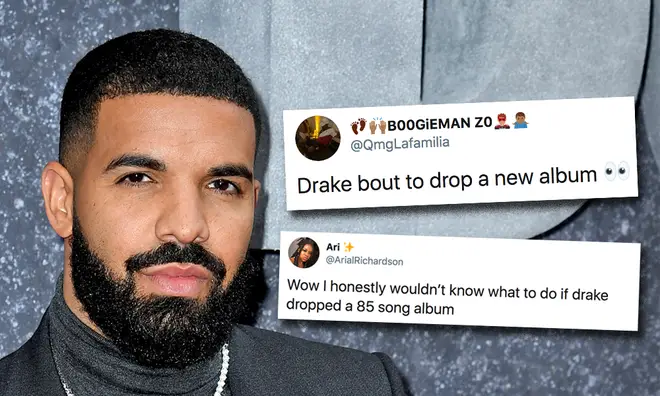 Drizzy only recently released his 'Care Package' project - so are you ready for another 85 songs?
Drake is nothing short of a hit-making machine. The 'Money In The Grave' rapper has already had four UK chart-topping singles and four top five albums and he's definitely not stopping any time soon.
But now Drizzy has teased a brand new release and even his own fans are pretty surprised at the thought of a brand new 85 SONG Drake album.
Taking to his Instagram, Drake posted a video on his stories alongside the caption 'Wow.... if you guys follow @carnage I will drop a 85 track album'.
We've barely gotten over the excitement of Drake bringing back the brilliant visual treat that is 'Top Boy' to Netflix and now we're met with the news of a potential 85 track project!?
Surely Drake is just hyping, but can you imagine if he did drop an album of those epic proportions? Even though Drizzy is an unquestionable boss in the music game, could he even put together a project with 85 anthems on it?
Remember when Chris Brown dropped 'Heartbreak on a Full Moon' back in 2017? Breezy's album contained 45 tracks, which many people considered too long - so imagine a project with double that amount of music!
Fans were excited at the potential new music though and took to Twitter to reveal their hope that this album becomes a reality...
When he actually drops that, it won't take long for me to know all lyrics to each song.
That's how serious I Stan⁶𓅓

— 𓅔Chelsea Till Satan Repents⁶𓅓 (@assahfalcao) September 16, 2019
@LDConey_7 if this fr happen.. you can find me locked in my room for the next 3 years with a speaker on full blast 😭

— Jamysia (@jamysia6) September 16, 2019
Drake bout to drop a new album 👀

— 👣🙌🏾B00GiEMAN Z0🦹🏽‍♂️🤷🏾‍♂️ (@QmgLafamilia) September 16, 2019
> Download Our Free App For All The Latest Music News!