Drake 'Fires Shots' At Pusha T On New Song 'Omerta' & Twitter Hilariously Reacts
17 June 2019, 14:02 | Updated: 17 June 2019, 14:06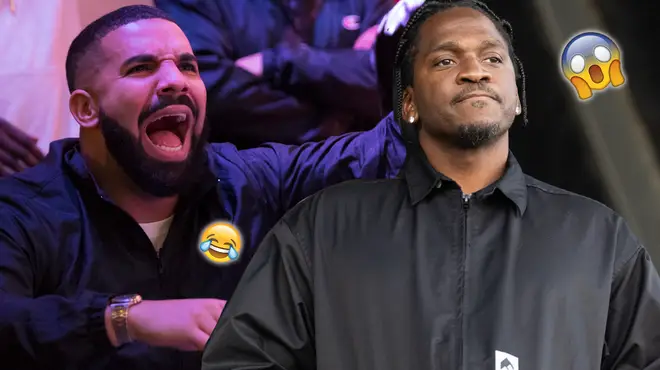 Drake has seemingly thrown shots at Pusha T in his new song "Omertà". Drizzy and King Push fans have reacted on Twitter with the funniest comments.
On Friday (Jun 14th) Drake dropped two tracks, 'Money In The Grave' and 'Omertà' in light of the Toronto Raptors winning the NBA Championship. Fans quickly spotted a few bars in 'Omertà' where Drizzy is seemingly taking jabs at Pusha T.
Although the Canadian rapper smoothed over his beef with Pusha T, many fans believe he isn't fully done with the "Mercy" artist.
During the "Omertá" track Drizzy recently dropped, he may have subliminally taken shots at King Push. Fans have suspected one line in particular is related to Pusha T.
The 'Nice For What' rapper raps the lyrics: "Last year n***as really felt like they rode on me/Last year, n***as got hot 'cause they told on me/I'm about to call the bluff of anybody that fold on me.
Drizzy seems to be referring to Pusha T's diss track towards him called "The Story Of Adonis" where he exposed that Drake has a son.
See fans reactions to Omertà below.
Drake taking shots at Pusha T again. 🤦🏾‍♀️ surgical summer pt2

— 💋 (@BonnieNoClyde23) June 15, 2019
*Drake responds to Pusha T 377 days later*

Drake fans: "it's over for Pusha T!!!"

— Buddy Love (@Christopherr_X) June 15, 2019
Drake is still sending subs at pusha and Kanye after sacrificing 40% of his album to diss...smh I don't want to hear nothing when pusha bullies him again

— Larry (@elkei_a) June 15, 2019