Chris Brown Delivers Heartfelt Message To 'Black Youth' During Enlightening Speech
15 March 2019, 12:28 | Updated: 15 March 2019, 12:45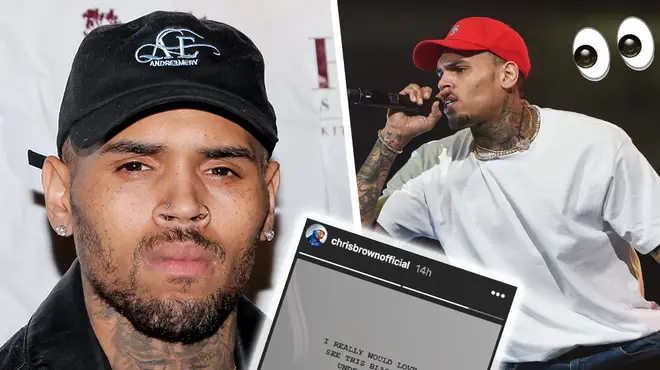 Chris Brown speaks from his heart in a motivational message for the "black youth" while shedding light on modern day issues...
Chris Brown is not an artist who shy's away from expressing his feelings and thoughts on social media. The superstar often reveals his vulnerability with his fans. Breezy updates his fans with the issues he goes through in life, to empower and warn people of mistakes he makes.
However, this time Chris has taken to social media to express how he feels about today's "black youth" and the lack of ethnic leaders.
Just yesterday (Mar 14), the 29 year-old superstar took to Instagram to get some things off his chest. Chris Brown has recently been reflecting on issues within society - especially pertaining to people of colour.
Chris Brown wrote a paragraph on Instagram story addressing the lack of ethnic leaders and urges the "black youth" to understand their capabilities.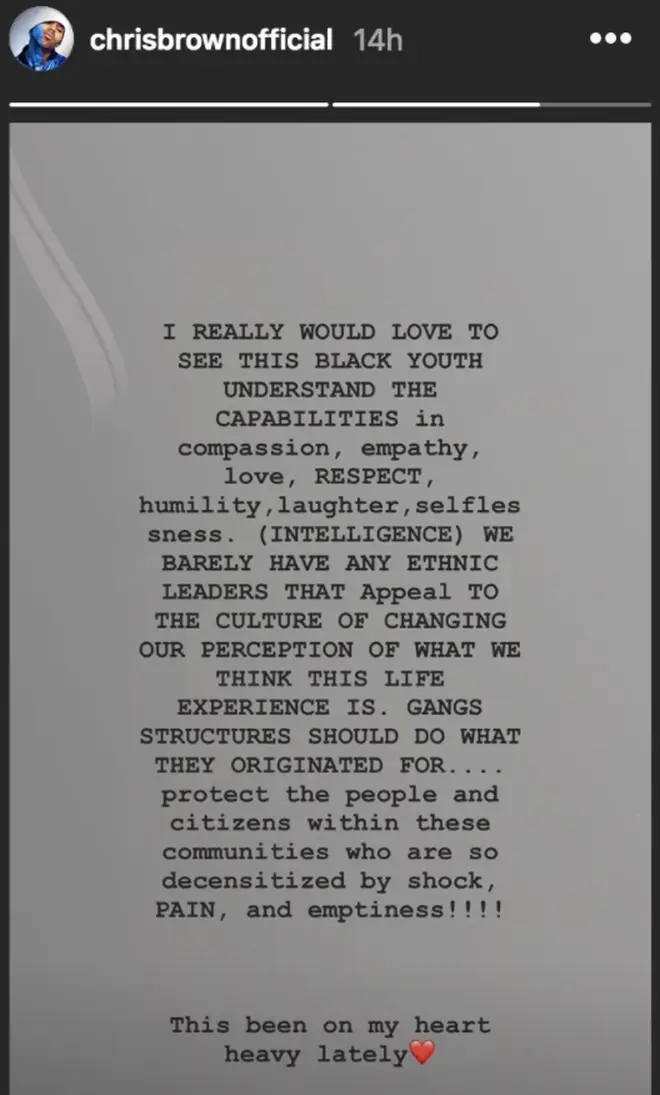 The Undecided superstar wrote :
"I REALLY WOULD LOVE TO SEE THIS BLACK YOUTH UNDERSTAND THE CAPABILITIES in compassion, empathy, RESPECT, humility, laughter, selflessness. (INTELLIGENCE) WE BARELY HAVE ANY ETHNIC LEADERS THAT Appeal TO THE CULTURE OF CHANGING OUR PEREPTION OF WHAT WE THINK THIS LIFE EXPERIENCE IS.
The multi talented artist continued: "GANGS STRUCTURES SHOULD DO WHAT THEY ORIGINATED FOR....protect the people and citizens within these communities who are so desensitized by shock, PAIN, ...and emptiness !!!!"
Breezy revealed that it has been on his mind recently, adding "This been on my heart heavy recently"
Chris Brown is big on inspiration and has revealed his biggest inspirations that got him to where he is, the main one being Michael Jackson.
Fans have debated on whether they agree with Chris Brown's view. Many fans have listed many black inspirational leaders who appeal to the "black community" and who are changing the youths perception daily.
Whether it's subconsciously, looking at black leaders on a surface representation level, or politically making a stance, fans have pulled together a roster of black excellence.
Some fans agree with Chris Brown and think that more could be done to show the "black youth" their capabilities and embracing attributes that are often shunned upon or not 'cool' to have.