Chris Brown Addresses Rape Allegations In Emotional New Video
4 February 2019, 13:10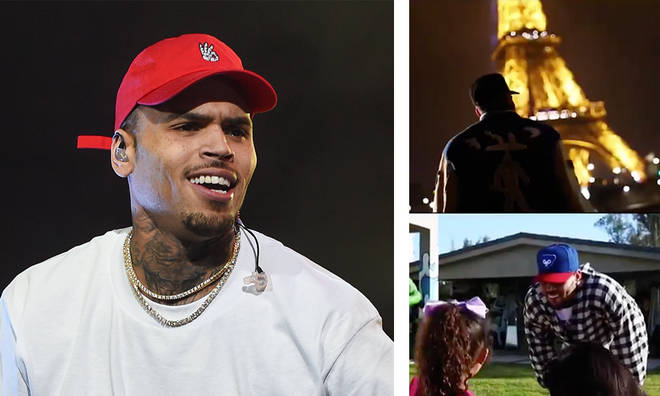 Chris Brown says "He Doesn't 'Have to Explain Any Lie'" in video addressing rape allegations.
Chris Brown, 29, speaks out and addresses how he feels since recent serious rape allegations in an emotional video made in Paris, where he was detained by police.
The "With You" singer, took to Twitter to share this montage of Paris clips where he initially headed to shoot a music video.
However, Chris Brown was detained by French police after rape allegations were made from the alleged 23-year old victim.
Beginning with an amazing long shot of the Eiffel Tower and the French flag blowing in the wind, Chris Brown pieces together positive memories whilst shooting his music video in Paris.
It is then cut short with a plethora of overlapping news report voiceovers from the recent rape allegations.
Brown's voice interjects and he states:
"My mom and grandma always said: 'The Lord can give you a gift and he can take it away,'"
He adds "And I feel like I don't have to explain any bullsh*t or any lies somebody's perpetrating or portraying me as."
Chris brown ends the video on a positive note. He expressed that despite what he has gone through in Paris, he achieved what he set out to do.
I'm so sorry for what happened when you came and hope that you will carry back great memories of France. See you soon on stage. Take care of you Breezy and your family.

— Dᴀᴍɪᴇɴ ✞ Mᴀɴᴅɪɴᴏ (@DamienMandino) January 31, 2019
Brown was released from French authorities (Jan 22) on potential charges of aggravated rape and drug infractions after a woman filed a rape complaint against the singer and two members of his entourage.
The Paris prosecutor's office said the investigation is still ongoing, but that Brown was free to leave the country while it continued.  
Some Breezy fans have taken to Twitter to sympathise with the artist, in attempts to stand with him against the alleged inaccurate rape allegations.
God has followed you through on the name of 'Jesus' He☝🏽had your front and back' Amen🙏🏾😪

— Shanda Hyman'Harris (@hyman_shanda) February 1, 2019
And this is why your an inspiration and forever my favorite💜 P O S T I V E KING🗣👑

— XXXGD (@XXmonicaGD) February 1, 2019
Since the being detained, the R&B Pop star has returned home to "the most important women in his life".
He has released T-shirts with the logo "'This B*tch Lyin'" to indirectly deny the rape claims made against him.
Brown also dropped a song "Who Dis?", which was an old song that he had recently released.