Offset Begs Cardi B To Take Him Back In Emotional Instagram Video
15 December 2018, 09:50 | Updated: 17 December 2018, 09:36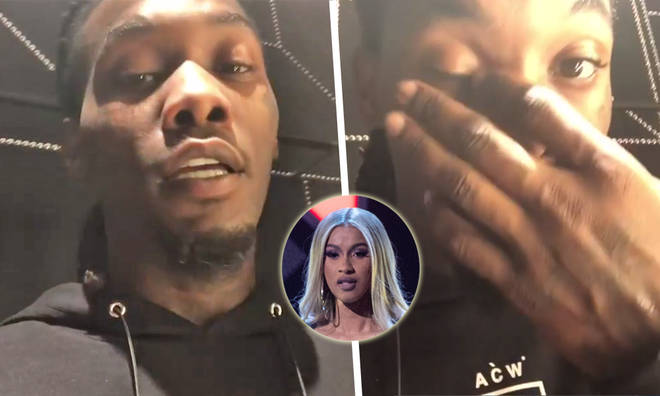 Migos rapper Offset took to Instagram to apologise to his wife Cardi B and beg her to take him back following their shock split.
After Cardi B announced that she'd split up with Offset recently, fans were pretty shocked - but now the Migos rapper has made a public declaration of love and apologised in video message directed at Cardi on Instagram.
Captioning the video 'F O R G I V E M E @iamcardib A L L I W A N T F O R M Y B D A Y' , Offset apologised for entertaining other women but claimed that he did not cheat on Cardi with anyone.
In the video, Offset states, "I only got one birthday wish and that's to get my wife back, Cardi. We're going through a lot of things in the media",
He then adds, "I wanna apologise to you Cardi. You know, I embarrassed you, I made you look crazy, doing things I didn't have no business partaking in," before adding "I apologise for breaking your heart, breaking our promise and God's promise".
Offset labelled himself as a "selfish husband" and admitted that he's "trying to be a better person". He also reveals that he wants to spend Chritmas with both Cardi and their young daughter Kulture and states "I wanna be able to spend the rest of my life with you.
Claiming he didn't cheat on Cardi, Offset says, "I didn't f**k that girl but I was entertaining it and I apologise. I love you and I hope you can forgive me".
The video was uploaded on Offset's birthday and afterwards he made an appearance at 21 Savage's show where the crowd sang him 'Happy Birthday' before shouting 'Cardi Take Offset Back'.
Cardi is yet to respond to the video and it's not known whether she has spoken to Offset following his grand gesture.
> Download Our Free App For All The Latest Cardi B and Offset News!