Who is Kelly Kurdi? Cardi B's 'WAP' sign language interpreter goes viral
9 August 2021, 18:16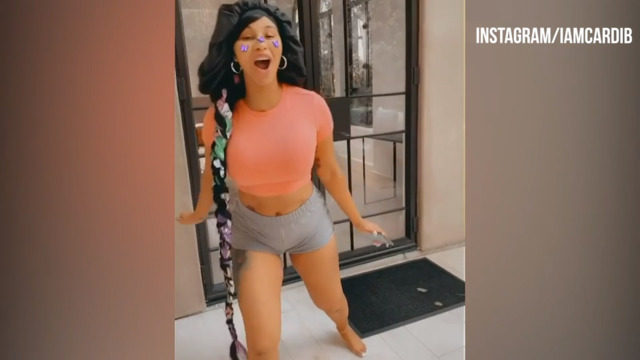 Cardi B & Megan Thee Stallion make Billboard history as 'WAP' debuts at No. 1
An ASL interpreter has gone viral after translating Cardi B and Megan Thee Stallion's hit 'WAP' at Lollapalooza festival.
Cardi B and Megan Thee Stallion's song 'WAP' is an ultimate hit, with the track making shocking waves through the lyrical content and racy visuals.
Now, a woman named Kelly Kurdi has gone viral after performing the hit song along with Megan Thee Stallion, doing American Sign Language.
While fans praised Megan for her amazing performance, fans couldn't help but notice the excellence of the sign interpreter.
Here's what we know about Kelly Kurdi.
Who is Kelly Kurdi?

Kelly Kurdi is a freelance interpreter who lives in Greater Houston, Texas.

While Kelly does not teach sign language herself, she does use her social media to promote sign language teachers.

Aside from being a freelancer, she is also a member of Amber Galloway Gallego's Music Family.

The family have featured on MTV, Jimmy Kimmel Live, CNN, and other well-renowned shows.

Kelly Kurdi.

Picture: Instagram

Kelly is also the founder of ASL Music Camp – an organisation which focusses on aims training "deaf, hard of hearing, and hearing interpreters to become experts in the field of music interpreting."

In an interview with Ameri Disability, Kelly said she does "at least forty to fifty events per year."

What is Kelly Kurdi's Instagram?

Kelly Kurdi currently has over a whopping 103k followers on her Instagram.

Her Instagram account blew up after her viral moment by an astounding amount.

Kelly's Instagram handle is @kelly4access. She often shares sign language content and posts photos of herself and her friends.

See her posts below.

Kelly Kurdi 'WAP' performance explored

Kelly's sign language interpretation went viral after a TikTok video from Lollapalooza surfaced on social media,

The small snippet, first uploaded by Guilherme Senise, who goes by the username vitalsenise, shows Kelly using ASL to Cardi B & Megan Thee Stallion's collaboration 'WAP'.

Within minutes, the video went viral and received millions of views.

Other social media platforms such as Twitter and Instagram picked up the video, making it even more viral than it already was.

On Tuesday (Aug 3) Kelly took to her social media and thanked everyone for their support following the viral video.

Kelly wrote: "Thanks for the love on my page from hearing people but I'm just an interpreter passionate about providing access to a community I love and have learned everything from."

See post above.