Offset's Alleged Cheating Partner Slams "Nagging" Cardi B After Text Message Leak
24 December 2018, 12:21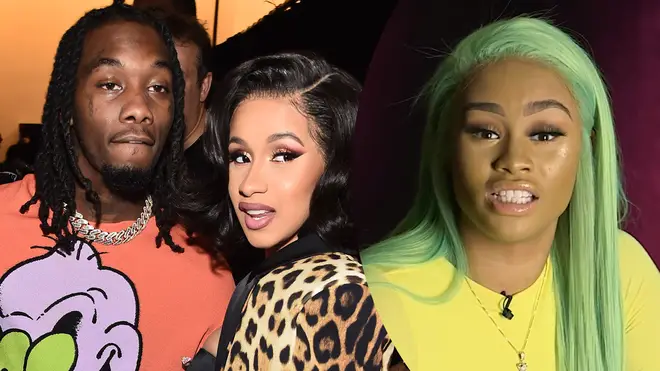 Aspiring artist Summer Bunni has lifted the lid on her alleged fling with the Migos rapper, and is urging Cardi B to "leave her alone" and to reconcile with Offset.
Summer Bunni, the woman Offset allegedly cheated on his wife Cardi B with, has spoken out against the couple.
The 20-year-old aspiring musician has hit out at the 'Money' rapstress for "nagging" and sending "subliminal" digs her way after a number of text messages between Offset and her leaked online.
After publicly apologising to Cardi, Summer retracted her apology last week, adding, "I wanted to be the first person to, like, be real about it, and be like, 'I'm sorry.' But people took that and, like, tried to test me, like I'm just nothing," said Summer.
"So I take the apology back, 'cause it's just messed up. It's really messed up." She later accused Cardi of blocking her from posting on Instagram.
"Everything I post gets deleted. And people wanna say, 'Oh, this person was stoppin' my bags.' Or 'This person is doing this,'" Summer explained. "You forever gonna make me a topic, so you might as well just leave me alone."
Summer Bunni Talks Cardi B & Offset Hook Up EXCLUSIVE | Hollywoodlife
"I really was sorry, at that time. I really felt bad," said Summer, who described Offset as "charming" multiple times throughout the interview.
"You got an apology. No woman ever gonna do that. None of them girls, none of these people, ever gonna apologize. You got an apology, you should've just took that and been cool.
"But since you just wanna be so immature and unprofessional [...] I'm over it." When asked about Cuban Doll, the supposedly third party in her alleged threesome with Offset, Summer retorted "Who is that?"
Elsewhere during the interview, Summer admits to missing Offset and claims from the moment he laid eyes on her, he made it clear about his intentions towards her.
Both Offset and Cardi are yet to respond to Summer. The estranged couple are said to be reunited after being spotted together on a jet ski in Puerto Rico.