Offset's Father Slams Cardi B In Alleged Leaked Social Media Post
19 December 2018, 10:15 | Updated: 19 December 2018, 10:17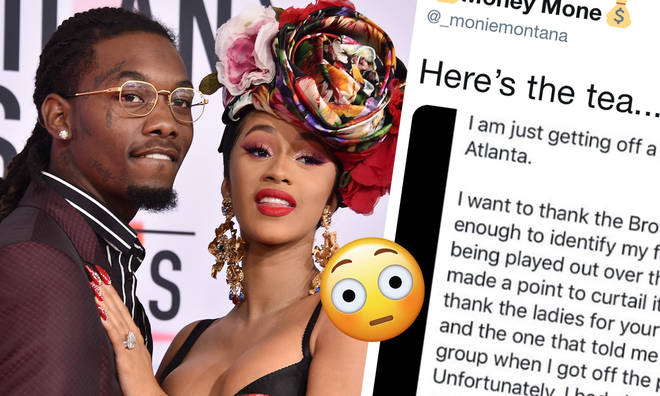 A post rumoured to be written by Offset's father appears to show him calling out the 'Money' rapstress for making her split from the Migos rapper so "public" on social media.
Cardi B and Offset broke up almost two weeks ago now, and things haven't exactly been plain sailing for the estranged couple.
Following the 'Money' rapper's shock announcement, a number of infidelity rumours surfaced accusing Offset of cheating, before the Migos rapper crashed Cardi's Rolling Loud set with an extravagant apology.
Offset was slammed by fans for the grandiose move, while it was later rumoured that Cardi's publicist was actually in on the plan all along, to which Cardi responded.
And now, an alleged leaked Facebook post written by Offset's father has surfaced online, showing him to be calling out the 26-year-old rapstress for broadcasting the break-up online.
So Offset's dad on Facebook basically blaming Cardi for everything. I really hate parents who don't hold their sons accountable.

— 💰Money Mone💰 (@_moniemontana) December 17, 2018
"Right now, my family is going through a tumultuous time," reads one of the screenshots. "Social media is a powerful tool, but certainly no place for family situations; however, our youth, specifically my son's wife doesn't understand that."
"She seems to want to take everything to social media without regard to the devastation it has on others, past present and future or specifically what it does to the other children." 
Furthermore, he claims that Cardi posted the first photo of baby Kulture out of "spite". He says Offset was set to use the image of his daughter on the cover of his now-delayed solo album.
"She basically screwed my whole family over that vowed not to release pictures to social media," he allegedly writes. Cardi, who gave birth to Kulture back in July, posted the image hours after the split was announced.
Elsewhere in the alleged post, Offset's father admits that his son has "done his share of dirt," before labelling "the whole scenario" as "a tic for tack, mudslinging situation fueled by jealousy, envy, insecurities, psychological issues, drugs, etc, etc, etc."
Both Offset and Cardi are yet to respond.