10 Of The Shadiest Lyrics From Beyoncé And Jay-Z's 'Everything Is Love'
19 June 2018, 16:59 | Updated: 22 June 2018, 13:08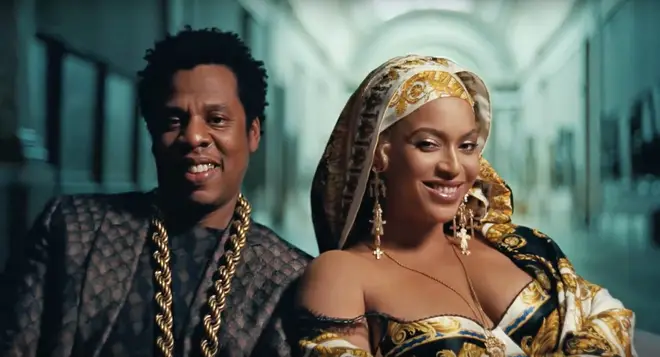 Your petty Instagram caption? Sorted.
When Beyoncé and Jay-Z unleashed their joint album 'Everything Is Love', the world was not ready.
In the wake of those cheating allegations, which surfaced on 'LEMONADE', and Hov's apologetic response via '4:44', fans have been delivered the final piece of the puzzle with the couple's powerful new collaborative drop.
Putting their marital troubles behind them, Bey and Jay are forming a united front - and now they're being petty. The album is full of shady remarks and juicy indirects!
So from Kanye to Kendall, here are the shadiest lyrics and quotes from 'Everything Is Love'.
Jay-Z ('FRIENDS') - "I ain't going to nobody for nothin' when me and my wife beefin' / I don't care if the house on fire, I'm dyin', n***a, I ain't leavin'."
Here, Jay appears to be addressing his fallout with Kanye West. It sounds like he's responding to West's recent comments which saw him admit he was "hurt" when Jay and Beyoncé didn't attend his wedding to Kim Kardashian in 2014.
Beyoncé ('NICE') - "Cause my success can't be quantified / If I gave two f****, two f**** about streaming numbers / Would've put 'Lemonade' up on Spotify / F*** you, f*** you."
Bey sees her success as more than just a number of streams, and has made her feelings about this particular streaming service quite clear. (Although, 'Everything Is Love' is now available for premium Spotify users.)
Jay-Z ('APESH*T') - "I said no to the Super Bowl / You need me, I don't need you / Every night we in the end zone / Tell the NFL we in stadiums too."
Jay confirms the rumours that he turned down the opportunity to perform at the 2018 Super Bowl halftime show, and throws some major shade at the NFL while he's at it.
Beyoncé ('LOVEHAPPY') - "Yeah, you f*cked up the first stone, we had to get remarried."
During their 'On The Run II' tour, Bey and Jay played footage of what appeared to be a vow renewal ceremony. The 'Crazy In Love' singer is nodding to the fact that Jay was unfaithful, leading them to renew their vows.
Jay-Z ('BOSS') - "To them invoices, separate the men from the boys / Over here we measure success by how many people successful next to you / Here we say you broke if everybody gets broke except for you / Boss!"
Hov could be throwing shots at Drake here. He's referencing the $100,000 invoice Drake publicly sent Pusha T for 'promotional assistance' and 'reviving his career'.
Jay-Z ('FRIENDS') - "Y'all put n****s on a T-shirt, it hurts you ain't never meet 'em."
Last year, Kendall and Kylie Jenner's line of "vintage" T-shirts, which used images famous artists including Tupac and Biggie, caused major controversy and resulted in the sisters being sued for copyright infringement.
Jay-Z ('APESH*T') - "Tell the Grammys f*** that 0 for 8 s**t / Have you ever seen the crowd goin' apes**t?"
Jay Z was nominated for eight awards at the 2018 Grammy Awards for his album '4:44', but walked away empty-handed on the night. Here, he's making it clear that his music does the talking for itself.
Beyoncé ('BOSS') - "My great, great, grandchildren already rich / That's a lot of brown children on your Forbes list."
As one of the most successful female artists in the world - and frequently ranked by Forbes themselves - Bey appears confident that the heirs to the Carter dynasty are set to head the same way.
Jay-Z ('HEARD ABOUT US') - "For the thousandth time, the kid ain't mine / Online they call me Dad, kiddingly / You're not supposed to take this dad thing literally."
Jay is addressing the ongoing rumours that he has an illegitimate son. He references Michael Jackson's 'Billie Jean', a track which sees the singer deny claims that he's the father of a woman's child.
Beyoncé ('LOVEHAPPY') - "Lucky I ain't kill you when I met that b- (Nah, aight, aight)"
Wait... did Bey almost let slip the identity of 'Becky With The Good Hair'? Yep, we think she almost did.