Ariana Grande Just Dragged Pete Davidson For Joking About Their Engagement
2 November 2018, 10:43
The 'God Is A Woman' appeared to slam her ex-fiancé Pete Davidson for making fun of their short-lived engagement on 'Saturday Night Live' after he jokingly proposed to singer Maggie Rogers.
Ariana Grande seemingly responded after her ex-fiancé Pete Davidson made a joke about their engagement during a recent appearance on 'Saturday Night Live'.
The comedian, who split from the 'Sweetener' singer in October, jokingly proposed to the evening's musical guest Maggie Rogers, who awkwardly turned down the offer.
"Hey Maggie, I'm Pete," Davidson says in the short clip. "Do you wanna get married?" Rogers declines, before Davidson quips, "0 for three."
Davidson appeared to refer to his failed engagement with Ariana, while also suggesting he proposed to his ex-girlfriend Cazzie David, who he dated shortly before his relationship with Grande.
Grande didn't seem impressed with the joke, however. "For somebody who claims to hate relevancy u sure love clinging to it huh," she tweeted. "Thank u, next."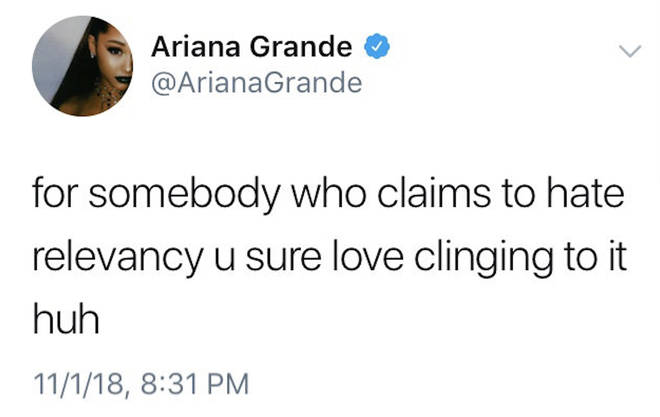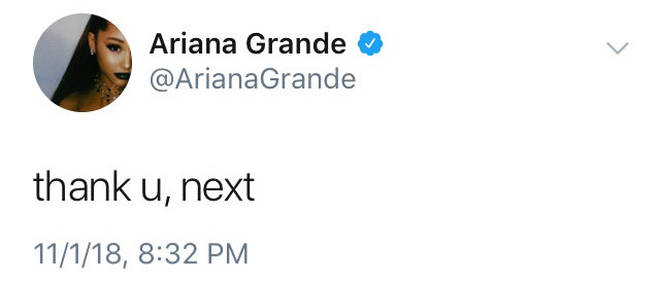 While Grande didn't mention Davidson by name, fans are convinced that the message is aimed at the comedian. She has since deleted the tweets.
Ariana also quote-tweeted a fan who wrote "tag yourself i'm maggie," referring to Rogers. She also tweeted "hell naw tho" and "k that's the last time we do that" before deleting those as well.
Davidson is yet to respond to the backlash. In the wake of their break-up, Ariana was seen covering up the 'pete' tattoo on her ring finger with a plaster during a recent performance.
The 25-year-old has also covered up the couple's matching 'reborn' tattoo on her hand with a fern design. On Wednesday (31st. Oct.), the star remembered her ex-boyfriend Mac Miller on the day of his tribute concert.