Ariana Grande Covered Up Her Pete Davidson Tattoo Following Their Split
18 October 2018, 11:30 | Updated: 18 October 2018, 11:36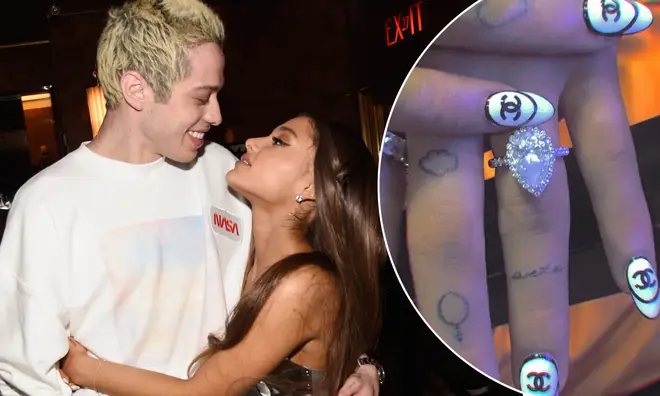 The 'God Is A Woman' singer appeared to have covered up one of her tiny Pete Davidson-dedicated tattoos following their split last weekend.
Ariana Grande has reportedly covered up one of the small tattoos dedicated to her now-ex-boyfriend Pete Davidson.
The 'Sweetener' songstress and the SNL comedian cemented their five-month relationship through a number of tattoos in honour of each other, and one of them was a delicate 'pete' inking on Ariana's ring finger.
However, following the couple's shock break-up last week, reports claim Ariana has already appeared to cover up the tiny tatt.
The 'God Is A Woman' singer was performing in New York on Tuesday (16th Oct.) for the upcoming NBC special dedicated to the Broadway musical, 'Wicked'.
During her pre-taped performance of 'The Wizard And I' - which Grande almost didn't go through with due to anxiety - images obtained by the publication show the singer wearing a plaster over the tattoo.
In the days before their split, Pete covered up his bunny ears tattoo - inspired by Ariana's third album 'Dangerous Woman' - with a black filled-in love heart behind his ear.
Pete also has Ariana's name tattooed down his rib cage, while the couple both got four matching tattoos in honour of each other: a cloud, the word 'reborn', the initials 'H2GKMO' ('Honest To God Knock Me Out') and the number of Pete's late father's police badge.
Following their split, Ariana reportedly gave back the $100,000 engagement ring Pete gave her at the beginning of their whirlwind romance, while Ariana has kept the couple's pet micro-pig, Piggy Smallz.