Ariana Grande Responds On Twitter After Claims She's 'Milking' Mac Miller Death
26 November 2018, 17:08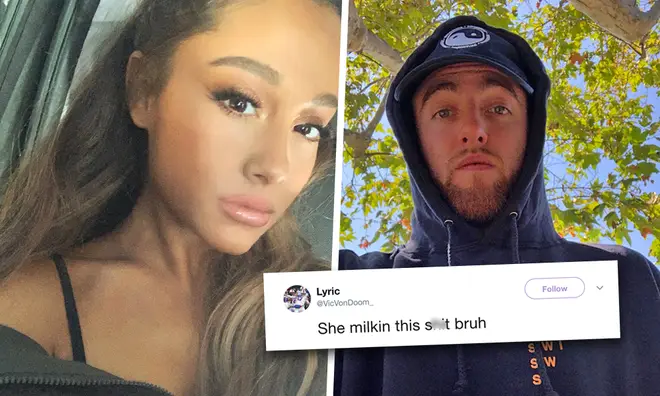 Ariana Grande shared some words of advice on Twitter after she was accused of 'milking' the death of her ex Mac Miller by sharing tributes to the late rapper.
After the tragic news that Mac Miller had passed away earlier this year, his ex girlfriend Ariana Grande shared a number of touching tributes to the late rapper - however she's cruelly been accused on Twitter of 'milking' the whole thing.
> Ariana Grande Just Cut Off Her Signature Ponytail & Fans Are Losing It
Taking to Twitter, one user wrote, 'She milkin this s**t bruh' in response to an article which highlighted Ariana's Thanksgiving tribute to Mac, but Ariana hit back with the perfect response.
Replying to the unneccessary tweet, Ariana wrote, 'i pray you never have to deal with anything like this ever and i'm sending you peace and love.' and her powerful message was followed by hundreds of respsonse from her fans apologising on behalf of the original poster.
After replying to the tweet, Ariana posted again and shared a mewssage to the wider community about hurting people's feelings, writing 'some of the s**t i read on here makes me sick to my stomach. it scares me the way some people think and i don't like this world a lot of the time. if only we could be more compassionate and gentle with one another. that'd be sick.'
Following Ariana's message, Halsey jumped into the replies and sent her friend a message saying 'ari the world could only dream of being as compassionate and gentle as you. and since ur being, as always, so classy and nice, allow me the honor of telling them to shut the f**k up.'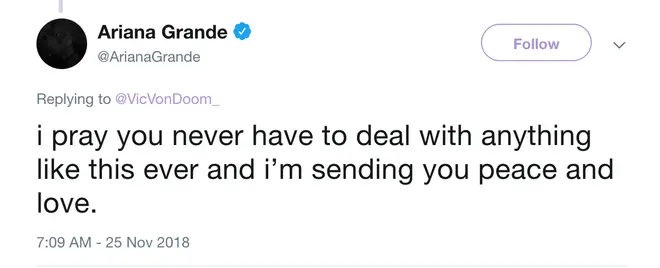 Following the flurry of messages online, Ariana revealed that she'd be taking a break from Twitter amd told her followers 'y'all really make me wanna stay. imma go tho for a min. it's too gnarly on here. i'll be back tho. love u bye.'
It's not known how long she'll remain absent from Twitter for or whether she'll take a break from Instagram and other social media platforms too, but we're hoping she'll be back soon!
> Download Our Free App For All The Latest Music News!