Ariana Grande Hits Out At Kanye West & Drake After Twitter Beef
14 December 2018, 12:40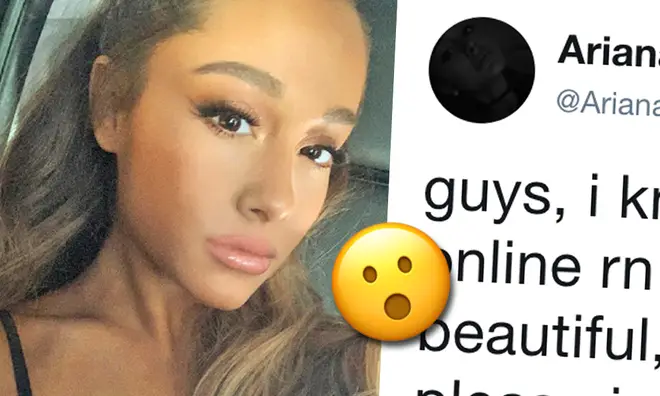 There were a few people you might think would respond to the Kanye West & Drake Twitter beef, but Ariana Grande's response was a real surprise.
Kanye West's Twitter rant in which he openly criticised Drake and claimed that the Canadian rapper threatened his family, has seen an unlikely response from none other than 'Sweetener' star Ariana Grande.
After Kanye posted a flurry of tweets airing out his dispute in the most public way possible, Ariana jumped onto the social media platform and referenced the dispute in a thinly veiled swipe at the two rappers.
Writing on Twitter, Ariana said, 'guys, i know there are grown men arguing online rn but miley and i dropping our beautiful, new songs tonight so if y'all could please jus behave for just like a few hours so the girls can shine that'd be so sick thank u'.
Ariana Grande's new song 'imagine' and Miley Cyrus' latest effort 'Happy Xmas (War Is Over) were both released on Friday, just when Kanye West started sounding off on Twitter and Ari clearly wasn't happy about the Chicago rapper from taking the limelight from her.
Whilst Ariana addressed the feud on Twitter, someone a lot closer to Kanye also spoke out about the whole thing - his wife, Kim Kardashian.
Directly addressing Drake on Twitter, Kim wrote, 'Never threaten my husband or our family. He paved the way for there to be a Drake'.
She went on to claim that Kanye is 'the most brilliant person' and 'will continue to change the world' in a follow-up tweet and since then the whole thing seems to have gone quiet.
Will Kanye be able to stay quiet or will Drake give share an official message to Kanye in response? Who knows what's gonna happen with these two!?
> Download Our Free App For all The Latest Kanye West & Drake News!