50 Cent Reacts To Nicki Minaj's Beef With Steve Madden After She Brands Him A "Liar"
31 October 2018, 10:28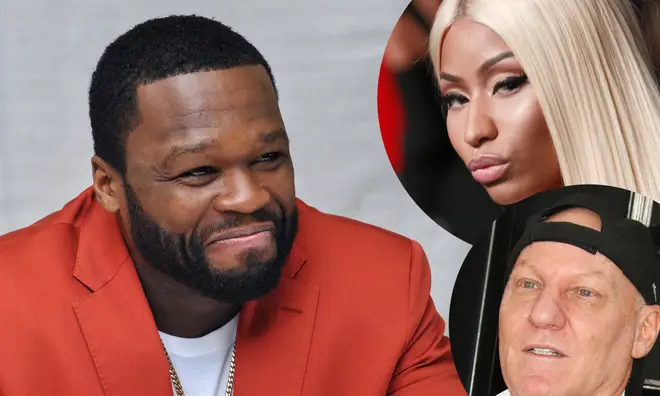 The 'Power' star jumped to the 'Queen' rapstress's defence after shoe designer Steve Madden accused her of lying about turning down a deal amid her explosive beef with Cardi B.
50 Cent has waded in on the drama between Nicki Minaj and shoe designed Steve Madden after accused her of lying about their recent dealings.
The feud was ignited following the 'Queen' rapper's explosive argument with Cardi B this week when the pair came to blows over a number of fashion campaigns that were presented to both artists.
Cardi claimed Nicki's recent Diesel partnership was a result of Cardi turning down their original offer - a claim which the brand later denied - before Nicki claimed that Cardi's deal with Steve Madden was actually posed to her first.
Steve Madden then accused Nicki of not telling the truth, tweeting: "You can't turn down an offer that was never made. #StopLying." And this is where Fif got involved.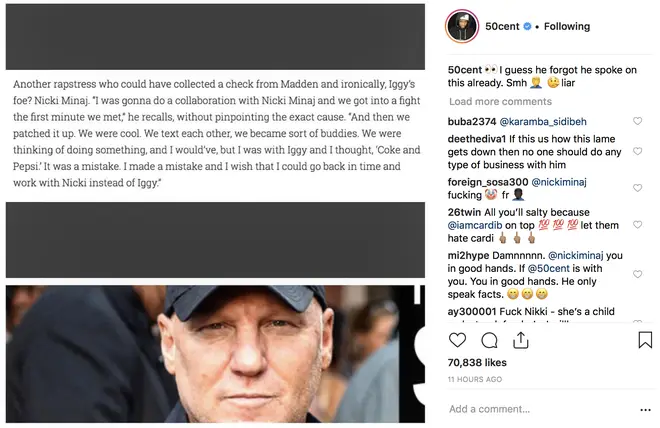 The 'In Da Club' rapper took to Instagram to share a screenshot of a Vibe interview with Madden, during which the designer spoke of his regret about choosing to work with Iggy Azalea rather than Nicki on a campaign at the time.
"I guess he forgot he spoke on this already. Smh," he wrote. "Liar." Following the controversy, Madden clarified his comments on Twitter, hailing Nicki is an "incredibly talented artist" but their collaboration couldn't work because "the timing wasn't right."
Nicki jumped in the comments of 50's post to add further fuel to the fire, claiming that Madden visited her house with record excecutive Irv Gotti and were "begging" her to do the deal.
The 'Chun-Li' rapstress also took to Twitter to speak on the situation and claimed she turned down a $4 million deal, while Iggy Azalea tweeted that Madden was "lying like sh*t" after being dragged into the drama.
Eat a dick nigga. You lied on me cuz it was the trendy thing 2do! Ain't nobody buyin that clown shit. We couldn't work together cuz I said the shoes were ugly. You see how when you do clownery it comes back to bite? WE NOT BUYING IT!!!!!! Respond to 50 instead of picking on women https://t.co/i6broZ6HB6

— QUEEN (@NICKIMINAJ) October 31, 2018
When did I say this???? For the record. Since u wanted attention asshole. Turned down 4 MILLION. NOW EAT MY ASS & GO AWAY. MY FANS WILL NEVER SUPPORT YOU AGAIN https://t.co/8PlgMBo0ib

— QUEEN (@NICKIMINAJ) October 31, 2018
Madden is yet to respond to 50's comments. Meanwhile, Cardi and Nicki appear to have come to a sort of truce following their public spat.