Bow Wow & 50 Cent Slammed For Body Shaming Wendy Williams After Trolling Bikini Photo
29 July 2019, 10:56 | Updated: 29 July 2019, 11:01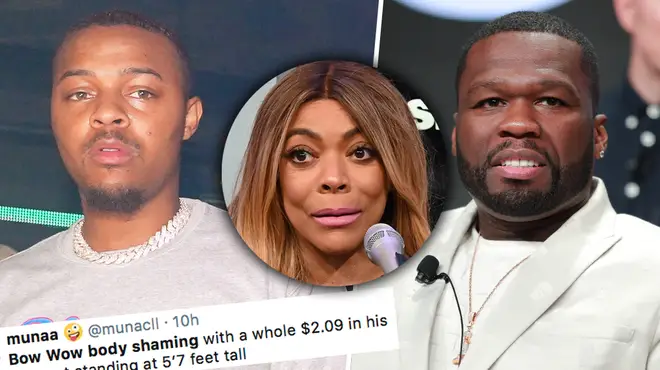 Rapper Bow Wow and Power Executive 50 Cent, has been called out on Twitter for 'body shaming' Wendy Williams. The two received backlash after roasting Wendy's bikini photo.
Wendy Williams recently addressed Bow Wow's 'distasteful' Ciara comments, on her self-titled talk show. The topic came when a video surfaced of Bow Wow shouting "I had this b**ch first" while his and Ciara's collaboration "Like U" was playing in the club.
The "Baby" rapper soon learned about Wendy's comments, jokes she made about his height and took to social media to roast her bikini photo. Not only did Bow Wow diss Wendy, 50 Cent chimed in and trolled Wendy.
On her show, Wendy backed up Ciara and said "It's very distasteful, you know what I'm saying? We've all had somebody before we had you, man, but to be shirtless in a club, calling her a bitch, you are so wrong for that."
Wendy also roasted Bow Wow for his height, showing a throwback of when he was dating his ex-girlfriend Ciara. In the photo, Bow Wow was on his tip-toes, trying to be the same height as Ciara.
Bow Wow posted a photo of Wendy Williams in a bikini and captioned it "They say its a hot girl summer" which sickening emojis, in a clear attempt at body shaming.
Soon after, 50 Cent got caught wind of Bow's tweet and couldn't miss out on another Wendy Williams trolling opportunity. So, the rapper-businessman took to Instagram and posted the same bikini photo of Wendy.
Fiddy captioned the photo on Instagram "Time to hit the beach," 50 wrote. "LOL You ain't work out in 20 years, so what."
Fans on Twitter didn't take the body shaming lightly & went in on the rappers. See fans reactions below.
Bow Wow is TRASH and does ANYTHING to try to stay relevant. Body shaming someone is never okay. He just keeps setting himself up. pic.twitter.com/cjE8r9k05t

— Derrick (@bambamfiasco25) July 28, 2019