Young Thug Slammed After Alleged Footage Of His Young Daughter Driving A Car Surfaces - WATCH
4 June 2019, 13:18 | Updated: 4 June 2019, 13:19
The 'London' rapper is facing intense backlash after a video of his young daughter allegedly driving a car has surfaced online.
Young Thug is being heavily criticised after a video allegedly showing his young daughter driving a car has surfaced online.
The footage reportedly shows Thugger's little girl sitting in the driver's seat of a car with both of her little hands on the steering wheel, barely able to peer over the dashboard.
A woman, presumed to be the child's mother, is riding in the passenger's seat filming the 'London' rapper's little one, at one point grabbing the wheel to assist her as she visibly struggles to control the car.
The video has garnered over a million views online and counting, and has sparked major controversy as thousands of commenters put Young Thug on blast.
"At least have her in your lap so you can control the pedals and just let her steer... wtf? This is beyond stupid and scary!" wrote one user, while Tyrese commented, "I'm almost sure DFCS is gonna see this."
"Wow no seat belt either. And on a public street.... A car or child could run out and she could crash. It looks like she can barely see and touch the pedals.... What Is wrong with people," wrote another.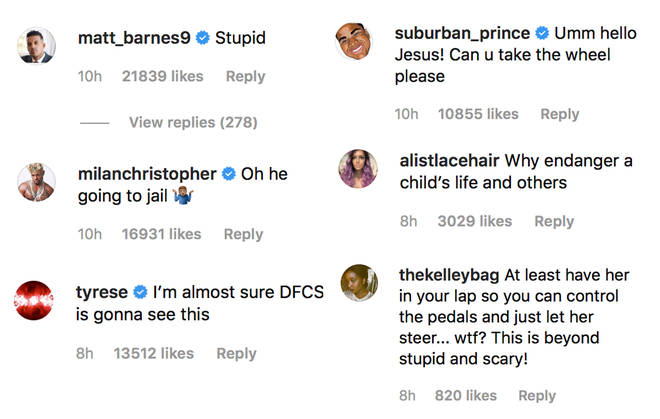 "Why endanger a child's life and others," wrote one user, while another added, "This is THE DUMBEST STUPID THING I've seen in a long time! And risking her life like this is love or fun, right? There's a plethora of things important things to teach a child."
Some did, however, defend the rapper's actions. "Y'all on here stunting like y'all parents ain't let y'all drive at a young age .. foh she good," wrote one follower.
"A lot of y'all never had a dad and it shows," wrote another. "Smh. Every father has done this with their kid down the block. It looked like a BARREN road. Calm tf down and let people live."
Young Thug is yet to respond to the alleged footage.