YNW Melly Reveals "Melly Vs Melvin" Album Will Be Released Soon In Jail Phone Call
16 October 2019, 11:54 | Updated: 16 October 2019, 12:29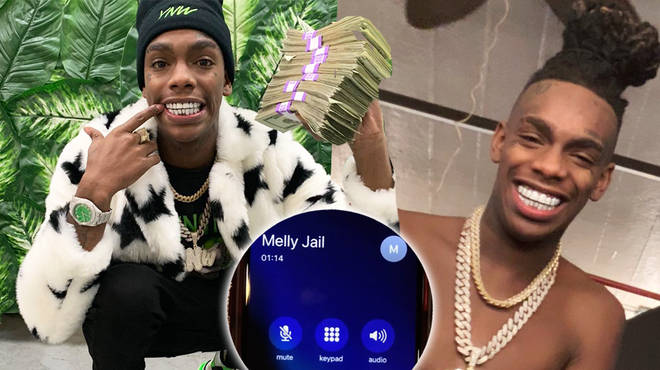 YNW Melly has teased his fans with new music, while he's awaiting trial behind bars. The rapper gave his fans an update on his "Melvin Vs. Melvin" album during a jail phone call.
YNW Melly has left his fans excited after announcing that new music will be on it's way sooner than people think. The Floridian rapper is currently behind bars awaiting trial after being charged with two counts of first degree murder.
The "Murder On My Mind" rapper's Instagram account posted a video of a phone call with Melly from behind bars. Despite being in jail, the rapper has previously revealed he has enough music that he can release to keep his career going.
Earlier this month, Melly took to Instagram to thank his fans for his latest released track '223's' going Gold, in it's first month.
The "Mixed Personalities" rapper has now let his fans know that there is more new music to come.
On Tuesday (Oct 15), YNW Melly shared a sweet message with his fans, thanking them for the recent success of '223's'. YNW Melly got on the phone to share a special message to his fans thanking them for the ongoing support.
Melly began "Man, what it is? You already know who it is. It's ya boy YNW Melly and I just wanted to shout out and thank all my fans and all the DJs spinnin' my record" the rapper said on the phone.
"'223s' featuring 9lokknine. I really appreciate it. I couldn't do it without y'all," he continued. "I just wanted to let y'all know, I went gold in less than a month."
The 20 year-old rapper assured his fans that there is more new music to come, adding that his new album, Melly Vs. Melvin will be out soon.
YNW Melly began to rise in the music industry in 2018 after the release of I Am You and later followed it up with the We All Shine project.
We All Shine included the single, "Mixed Personalities" featuring Kanye West which went platinum.