Wiz Khalifa Refuses To Apologise For Controversial "Racist" Lyrics Following Backlash
18 July 2018, 12:34 | Updated: 2 August 2018, 17:06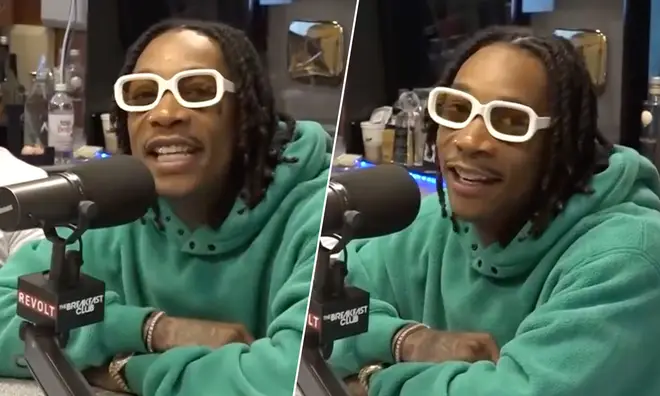 The rapper was called out on social media this week.
Wiz Khalifa has responded to criticism of some of the lyrics in his new song 'Hot Now'.
The Pittsburgh rapper addressed the backlash - which was aimed at the lyric "Smoke got my eyes lookin' Korean" - during his appearance on The Breakfast Club.
"And I also say I smoke like a Jamaican, and I also say I live like a white man," he argued, insisting that the line wasn't meant to be see as racist. "So chill out. I'm not a racist. I love all races.
"My art is up for interpretation. So if it pisses you off, cool." he said, while refusing to apologise for the lyric. Watch the video above.
The particular line was seen as problematic among many users online, and many took is as an attack on the Korean and Asian communities.
"Smoke got my eyes lookin' Korean" - a line in 'Hot Now' by Wiz Khalifa

If you don't find anything wrong with this line, unfollow me right now. Discrimination & racism against Asians has been going for many years w/o anyone batting an eye and I am tired of it.

— elise 🌹 (@lovxlise) July 16, 2018
Hey #WizKhalifa , don't ever say anything when someone makes a racist remark on you. If you do, then it would be self-contradictory. What you said about korean in your song 'hot now' reveals the fact that you are a racist, not a victim. How pathetic!

— 영무낙 (@Comparative_Lit) July 14, 2018
@wizkhalifa You won't be able to show korean passion in your performance anymore.
Don't ever come to Korea again.

— 🌹 (@Danwer_) July 15, 2018
'Hot Now' features on Wiz's new album 'Rolling Papers 2'.
This isn't the first time Khalifa has made a reference in the same vein. During his feature on Kanye West's 2008 track 'Amazin', he raps, "Look what I'm blazin'/ Eyes so low/ Yeah I look like an Asian."
In addition, on his 2010 song 'Real Estate', the rapper says, "Eyes Chinese, smoke like I'm Jamaican," Complex reports.