Tyler, The Creator admits "I like girls - I just end up f***ing their brother every time"
22 November 2019, 12:24 | Updated: 22 November 2019, 12:27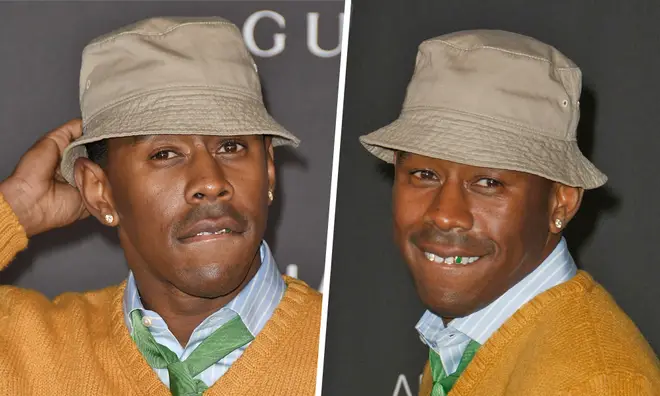 Rapper Tyler, The Creator appeared to address ongoing rumours about him being gay in a new interview.
Tyler, The Creator has been faced with rumours around his sexuality for a number of years now, having made various references to homosexual encounters in various songs and he's sparked talk around the subject again during a new interview.
Whilst speaking to GQ recently, Tyler stoked the rumours about his sexuality by saying, "I like girls—I just end up f***ing their brother every time," and it's left fans asking plenty of questions.
Addressing his sexuality previously, Tyler rapperd on his song 'I Ain't Got Time!', "Next line will have them like, 'woah' / I been kissing white boys since 2004".
In 2015 Tyler also tweeted, 'I TRIED TO COME OUT THE DAMN CLOSET LIKE FOUR DAYS AGO AND NO ONE CARED HAHAHHAHAHA'.
Now Tyler's latest tease about his sexuality has sparked a flurry of posts from fans asking questions on social media with one writing 'When Tyler the Creator say gay s**t you never know if he's serious or not'.
Is Tyler the creator really gay or he just playin ??

— ✨Lyric✨ (@EmpressLyric) November 21, 2019
Do yalk think Tyler the creator's original fanbase still thinks he's playin about bein gay

— Jojo's Bizarre Adventures (@jayfrankela) November 20, 2019
Back in 2014, Tyler was asked by Larry King about whether Hip-Hop was ready for a "gay rap artist" and he said: "Maybe one day...but why does that sh*t matter? Like, if he wanna f*ck dudes or whatever, why does that matter? Why do we care? That's so crazy right?"
Tyler's good friend Frank Ocean famously came out as bisexual in his 2012 album 'Channel Orange'.
> Download Our Free App For All The Latest Music News!