Tristan Thompson blasted by fans after posting 'confusing' Khloe Kardashian tribute
12 November 2019, 15:14 | Updated: 5 October 2020, 12:32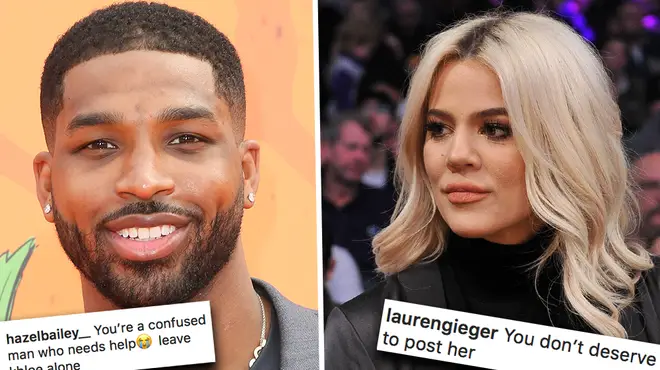 Basketball player Tristan Thompson has been trolled by fans after he posted a sweet message to his ex, Khloe Kardashian, on Instagram.
Tristan Thompson has received backlash after posting a sweet Instagram tribute to his ex Khloe Kardashian.
Khloe Kardashian, Kourtney, Kim and their mother Kris Jenner were all present at lthe E! Peoples Choice Award, which took place on Monday (Nov 11). Khloe walked home with an award after winning the Reality Star of 2019 award.
The Cleveland Cavaliers basketball player took to Instagram to pay a tribute to his daughter's mother Khloe, with a long heartfelt message.
Tristan posted side-by-side photos of Khloe on the red carpet and began his sweet message dedicated to her.
'Congrats Momma Koko on winning best reality star 2019, that's two years in a row. Two time champ. I love the sound of that. So proud of all you have accomplished this year.'
He continued 'Revenge body is something that always stands out to me, you challenge people to fight for a better YOU'. Tristan wrote alongside images of Khloe on the red carpet.
'It's more about what in life really gives us true happiness and is holding us back from achieving that. True and Myself are so proud of you and the sisters for everything last night. Y'all are truly role models to our younger generation. Keep leading with love and happiness.'
Many fans trolled Tristan for his message, due to his cheating scandal which involved Kylie Jenner's now ex-BFF Jordyn Woods.
One fan wrote "Let go and let god Tristan cause baby this is a reach", while another wrote "Na you broke the girls heart not once but twice don't even let him do it for a third! Once a rat always a rat".
What do you think of Tristan Thompson's tribute to Khloe Kardashian ?