Travis Scott Sparks Controversy After Removing Transgender Model From 'Astroworld' Album Cover
2 August 2018, 12:50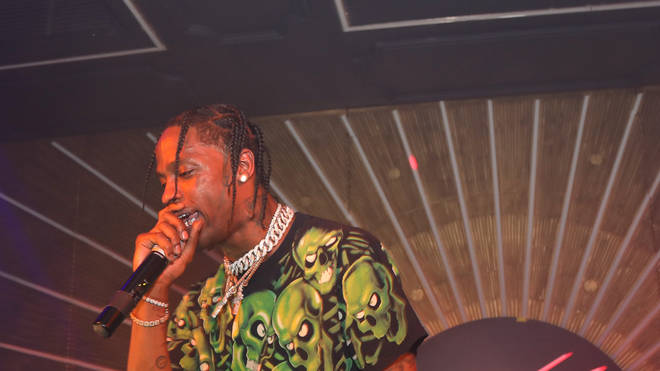 Travis is under fire...
Travis Scott is facing a backlash after appearing to remove a transgender model from the artwork for his new album 'Astroworld'.
The rapper released the album cover for his anticipated new album this week however eagled-eyed fans noticed a subtle change in the artwork.
The official image, which was posted on Instagram by photographer David LaChappelle, featured famous transgender model Amanda Lepore.
See the image below:
Lepore appears in the artwork next to the rocket.
However in the version posted on Instagram by Travis Scott, the same model appears to be missing.
See below:
After noticing the exclusion, Lepore took to Instagram to express her confusion at being edited from Travis Scott's version of the 'Astroworld' artwork.
"I'm curious why I'm not on the picture @travis scott posted," she wrote.
"A girl can't help it! Too distracting for the eyes! Upstaged everyone in the photograph."
Some fans have also slammed Travis Scott for his actions.
seeing huge artists like travis scott be openly transphobic is SO disappointing... we've made progress but we still have a long way to go ;(

— JOSIÑO® (@islandtwink) August 1, 2018
If you support Travis Scott, you're transphobic and that's that on that. I dONT make the rules.

— Eric Kirner (@eskirner) August 2, 2018
hmmm was pumped to see travis scott on sunday but had to get all transphobic huhh y'all can keep it

— Alex (@alexxoh) August 1, 2018
hmm. travis scott removing amanda lepore from his final album cover. hmm. almost like he's transphobic- no, he can't be. NOT travis scott!! known ally travis scott!! (for real anyone claiming that the removal of amanda was done for any other reason than transphobia is dumb asf)

— alice (@gh0stquartet) August 1, 2018
While other fans have supported Travis Scott for his actions.
so everyone was dragging travis scott for being 'transphobic', while david lachapelle's on instagram saying he took amanda lepore out the cover of astroworld because she was 'up staging' everyone else?

— HK. (@HennaLewinsky_) August 1, 2018
And to be very clear, Amanda Lepore never called Travis Scott transphobic. She just inquired why she was removed from the cover. Y'all love throwing the terms racist, homophobic, transphobic, and sexist into a conversation. pic.twitter.com/DsKLGx57XM

— Slangston Fumes (@SilasVassar3rd) August 1, 2018
Just cuz he took someone off the cover doesn't make him transphobic, maybe he just didn't like that one? Some people have personal preferences. Why does everyone have to get offended over nothing all the time.

— Ash Kushem (@Dale_The_OG) August 1, 2018
Meanwhile, Travis Scott is yet to respond to the controversy.
The rapper's new album 'Astroworld' is set to be released on 3rd August 2018.