Travis Scott Is Giving Away $100,000 To His Fans Following 'Astroworld' Album Success
15 August 2018, 12:20 | Updated: 15 August 2018, 12:23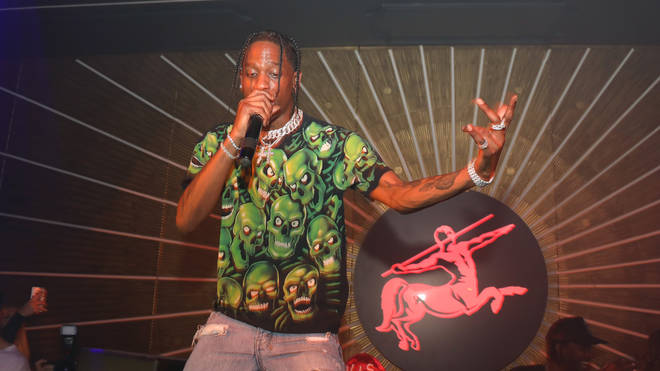 Incredible...
Travis Scott is giving away $100,000 to his fans following the success of his latest studio album 'Astroworld'.
The Houston rapper, who recently gifted Kylie Jenner a classic Rolls Royce for her 21st birthday, is extending his generosity to his supporters.
Taking to social media on Tuesday (14th August), the 'Sicko Mode' rapper made the announcement that he was planning to hand out $100,000 via Cash App.
"I decided to unload my bank account on u guys," he said on Twitter.
Loyal Travis Scott fans can win money by tweeting their Cash tag alongside lyrics from his new album 'Astroworld'.
SO I KNOW ITS HARD FOR THE KIDS
SO I DECIDED TO UNLOAD MY BANK ACCOUNT ON U GUYS. IM BUSTING DOWN $100,000 AND GIVING AWAY TO ANY FANS THAT CAN TWEET ME THERE CASH TAG WITH LYRICS FROM ASTRO. GANG !! pic.twitter.com/7o3KlxnTm2

— TRAVIS SCOTT (@trvisXX) August 14, 2018
Following the announcement, fans began revealing that they had been paid by the rapper.
Travis Scott just sent me $500

— elias florida man (@matchedontinder) August 15, 2018
Just in my room filling out papers and got scared cause i heard my brother yelling and it so happens Travis Scott sent him $500 like nothing lol

— Crystal Rincan (@RincanCrystal) August 15, 2018
If I tell y'all this y'all ain't gonna believe me but Travis Scott just sent me $100 on cash app 😭😭😭 astroworld forever ever 😭

— rach🐊 (@r8chelrivers) August 15, 2018
On God Travis Scott just sent me money to go towards my tuition. God is good. Thank you this means so much♥️ @trvisXX

— ASHLEY É (@SHESASHLEYE) August 15, 2018
Travis Scott continued to express his gratitude to fans, after his 'Astroworld' album went to No. 1 in the Billboard Charts.
"I devote my life to u guys and I can't express how much ya'll mean to me," he said.
TO THE FANS WE GOT THIS TO NUMBER ONE I LOVE U GUYS SO MUCH. I DEVOTE MY LIFE TO U GUYS AND I CANT EXPRESS HOW MUCH YALL MEAN TO ME. TO ALL THE RAGERS ALIVE MAY WE LIVE FOREVER.

— TRAVIS SCOTT (@trvisXX) August 13, 2018
TO EVERYONE THAT CAME THRU FOR THIS ALBUM THANK U A TON! THANKS FOR RIDING WIT ME THRU THIS PROCESS THANKS FOR BELIEVING IN ASTROWORLD.

— TRAVIS SCOTT (@trvisXX) August 13, 2018
REMEMBER TO USE UR VOICE TODAY TO INSPIRE SOMEONE NO MATTER WHAT HAPPEN IN UR PAST LOOK FOWARD AND PROGRESS. BECOME BETTER THAN UR OLD SELF.

— TRAVIS SCOTT (@trvisXX) August 13, 2018
Meanwhile, Travis Scott recently announced his first ever Astroworld music festival in his hometown of Houston.
The rapper is likely to be joined by some of the biggest names in Hip-Hop and R&B on stage on 17th November.