Tory Lanez Exposes Directors For 'Swapping Dark Skin Models With Fairer Women'
17 June 2019, 11:25 | Updated: 17 June 2019, 12:07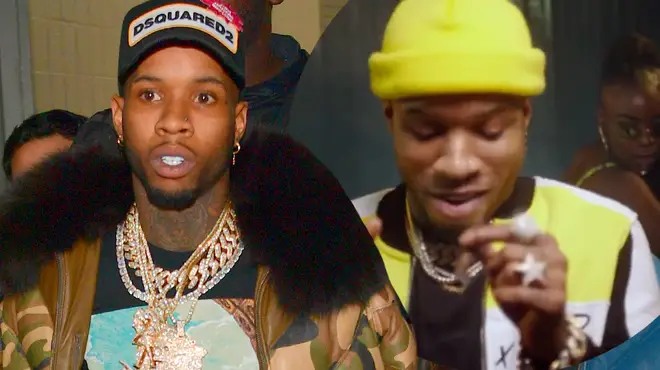 Tory Lanez has called out directors for allegedly trying to swap women of colour for women of lighter complexion. The rapper addresses the prejudices in the entertainment industry.
Tory Lanez took to Instagram to share an important message to his fans. The "LUV" rapper shunned a light on the prejudice towards dark skinned women within the entertainment industry.
The Canadian rapper posted a video of behind the scenes of a music video shoot, where the directors tried to substitute a woman with a darker complexion for a lighter-skinned woman.
The 26 year-old rapper shared a short clip of the incident, where he was in the middle of shooting the music video for Nafe Smallz "Good Love".
Tory is seen rapping to the camera, while the director replaces a beautiful dark skinned model for a fairer complexioned black woman, with blonde curly hair.
Lanez stopped cut the cameras and brought the original dark skinned model back onto the set.
He told the fairer skinned woman "You look beautiful by the way" to assure her that she is still good enough, but he is sticking to his principals. Tory then continued to film with the original dark skinned woman.
The "Talk To Me" artist captioned with the video with an important message addressing the incident.
He wrote, "As a black man , Sometimes I'm going to joke about the black community just like we all do."

He continues: "BUT WHAT IM NOT GOING TO DO IS ALLOW ANY OF THESE DIRECTORS TO DE-VALUE OUR BLACK WOMEN," adding that he's seen directors "swap out our women of color for women of lighter complexion, or women with straighter hair ETC."
He ends the message saying, "IT IS OUR RESPONSIBILITY AS ARTIST TO STAND UP AND NOT LET THIS HAPPEN ... it's BEEN time to embrace our woman of color."