T.I. slammed after admitting he takes his daughter, 18, to "check her hymen"
7 November 2019, 10:55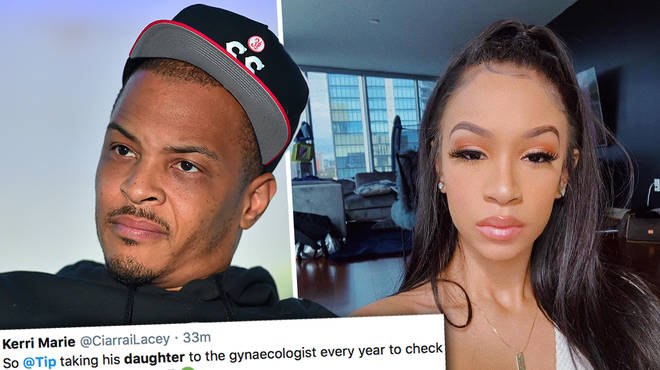 Rapper T.I. is facing backlash after he revealed that he takes his 18-year-old daughter to the Gynecologist to "check her hymen".
T.I has received backlash after the rapper revealed that he takes his 18 year-old daughter to the Gynecologist to check her hymen.
In a recent interview with Ladies Like US podcast with hosts Nazanin Mandi and Nadia Moham, T.I.'s reveal came after they asked him whether he had discussed sex with Deyjah, who is in her first year of university.
The Atlanta rapper said "Deyjah's 18, just graduated high school now and she's attending her first year of college, figuring it out for herself," T.I said.
T.I continued "And yes, not only have we had the conversation, we have yearly trips to the gynaecologist to check her hymen."
The 39-year-old father detailed how he prepares Deyjah for going to the appointments.
"This is what we do. Right after the birthday we celebrate. Usually like the day after the party, she's enjoying her gifts. I put a sticky note on the door 'Gyno. Tomorrow. 9.30.'"
T.I added "So we'll go and sit down and the doctor will come and talk and the doctor's maintaining a high level of professionalism. He's like, 'You know sir, I have to, in order to share information'"
He interjects what the doctor is asking Deyjah, saying "I'm like, 'Deyjah they want you to sign this so we can share information. Is there anything you wouldn't want me to know? Oh, OK. See doc, no problem.'"
"And so then they come and say, 'Well I just want you to know that there are other ways beside sex that the hymen can be broken, like bike riding, athletics, horseback riding and just other forms of athletic physical activity,'" he continued.
I really can't believe TI books his 18yo daughter to the gyno to check if her Hymen is in tact...

Spoiler alert: THIS SHIT AINT OKAY pic.twitter.com/f4MryVj6KR

— Galileo Universe 🅴 (@GalileoUnivers) November 6, 2019
"I say, 'Look doc, she don't ride no horses, she don't ride no bike, she don't play no sports. Just check the hymen please and give me back my results expeditiously.'
The "Live Your Life" rapper finished on this note: "I will say as of her 18th birthday, her hymen is still intact."
Fans have slammed the rapper for being too "controlling and possessive" over his daughter's womanhood.
One fan wrote "Virginity testing is Abuse. The doctor who performed these examinations should also be struck off. patriarchy meets medicine".
Another Twitter user wrote "holy f**king s**t this is so scary and assault-y and possessive and awful. That doctor should be stripped of his license" See fan tweets below.
If you're defending T.I.'s atrocious practice of having his 18-year-old daughter's hymen checked, and the gynecologist violating HIPPA to accomodate T.I.'s creepy request, then you're a disgusting misogynist, too.

Women are not your property. Not even your daughter.

— Sergio (@siano4progress) November 6, 2019
T.I doesn't go around getting his sons checked....but you can leave a sticky note on your daughters door that says "hymen check at 9am" how utterly disgusting..........when you have a father who deep down hates women....this is what you get.

— Kelsei LeAnn, PsyD ✨ (@drkelseileann) November 6, 2019