Tekashi 6ix9ine Just Slammed YG Following His Fight With Rapper Slim 400
6 November 2018, 11:43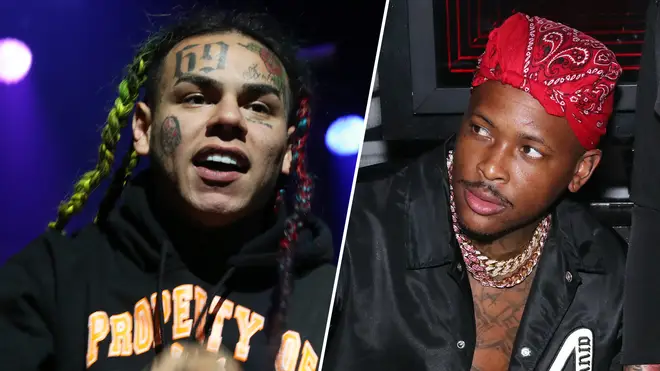 6ix9ine, real name Daniel Hernandez, came for rapper YG amid their ongoing beef, accusing him of not fully supporting his affiliate rapper Slim 400 following an altercation in LA.
Tekashi 6ix9ine has launched a verbal attack on rapper YG following an altercation with his affiliate, Slim 400, in Los Angeles at the weekend.
The 'GUMMO' rapper came face to face with Slim and his crew on Sunday, before the group began hurling insults at each other. Days after the altercation, 6ix9ine threw some words YG's way.
"Name one Slim 400 record," Tekashi said to a crowd, flanked by security guards. "Get some money you broke. If YG really had love for you, you wouldn't be in the hood right now. YG can't even get himself out the hood."
Slim claims that he prevented 6ix9ine from entering and performing at the venue of their altercation. "Stopped that n***a at the door. 6ix9ine couldn't get in. Ain't hit no stage, ain't walked around doing sh*t."
"Ain't no colourful-haired n***as pulling up," he told the camera. "Never heard of 'em, b*tch."
6ix9ine has been beefing with YG for some time now. Earlier in the year, the New York rapper bragged that 'FEFE', his collaboration with Nicki Minaj, was bigger than YG's 'Big Bank' , which also featured Minaj.
YG is yet to respond to Tekashi's latest jab. Meanwhile, 6ix9ine and his team were recently involved in a shooting with the security team of record label executive Elliott Grainge, shortly after the rapper received his latest probation sentence.