Tekashi 6ix9ine Avoids Jail Sentence In Child Sex Case, Involved In Shooting Moments Later
29 October 2018, 13:59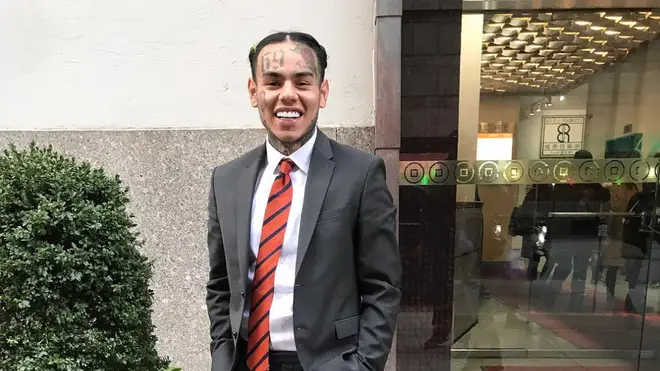 6ix9ine, real name Daniel Hernandez, was facing a lengthy jail sentence after previously pleading guilty to "use of a child in a sexual performance" in 2015.
Tekashi 6ix9ine has reportedly avoided a lengthy jail sentence in his ongoing child sex case from 2015.
The controversial 'FEFE' rapper, who was facing 1 to 3 years in jail, will instead serve four years of probation.
According to TMZ, the New York rapper will be required to perform 1,000 hours of community service and has been banned from any gang activity, which includes hanging around known gang members.
If the rapper is arrested at any time during the four year sentence, it will be considered violation and he could face jail.
6ix9ine, real name Daniel Hernandez, pleaded guilty to "use of a child in a sexual performance" in 2015, following a video that surfaced of himself with a 13-year-old girl.
Prosecutors were urging the court to give 6ix9ine a one to three years prison sentence following the number of plea deal violations that have occurred over the past year.
The rapper failed to get his GED and was also arrested two times in 2018.
They claimed that any light sentencing could send the wrong message to "like-minded offenders who follow defendant on social media and other outlets."
"[6ix9ine] has instead been arrested multiple times for crimes he committed this year and he has chosen to become a member of the 9 Trey Bloods gang," Manhattan Assistant D.A. Sara Weiss reportedly told Judge Felicia Mennin in a letter.
"Defendant has exacerbated his own violent conduct by using his public platform and significant following to provoke and promote incidents of gun violence."
Meanwhile, Tekashi 6ix9ine is already facing fresh controversy after his security was shot while his team celebrated their legal "victory".
Members of 6ix9ine's security were reportedly involved in altercation with the security team of record label executive Elliott Grainge.