Tekashi 6ix9ine Just Trolled YG After His Car Shockingly Crashed Into Someone's Home
7 November 2018, 11:05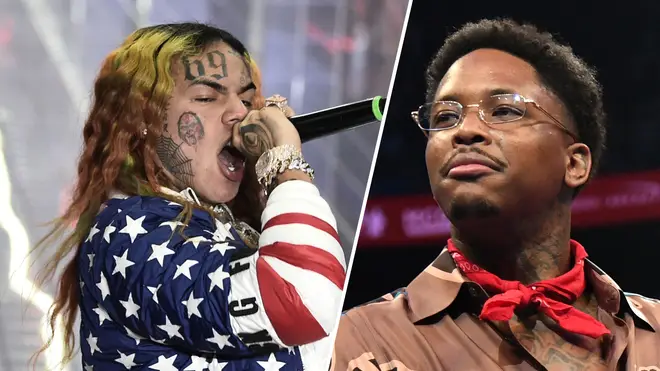 The 'GUMMO' rapper has waded in on YG's latest debacle amid their ongoing beef. The 'Big Bank' hitmaker's car crashed into someone's home in LA this week, miraculously avoiding injury.
Tekashi 6ix9ine isn't letting his beef with YG simmer down any time soon. The 'FEFE' rapper jumped on Instagram this week to troll his rap rival after he was involved in a car accident.
The 'Big Bank' rapper was riding passenger in the back of an Uber yesterday (6th Nov.) when the slammed into someone's front garden, TMZ reports. In the images, YG can be seen looking confused and standing among the wreckage.
The incident took place in the San Fernando Valley area, and according to the report, the SUV carrying YG was the only vehicle involved. It's not clear as to how or why the crash occurred.
YG appears to have escaped unscathed in the images, while it is not clear what happened to the driver. Soon after the incident, Hip-Hop personality DJ Akademiks took to Instagram to relay the news.
Soon enough, Tekashi 6ix9ine - who is currently embroiled in a bitter back-and-forth with YG - jumped in the comments section and claimed that he was involved in the incident. "I was chasing him," he wrote. "He got scared."

6ix9ine's involvement is yet to be confirmed. Earlier this week, the Bronx native launched a verbal attack on YG following an altercation with his affiliate, Slim 400.
6ix9ine claimed that "YG can't even get himself out the hood," to which YG replied with a scathing message of him own.
"Matter of fact b*tch, where's your chains at? I could have sworn your b*tch a** just got robbed in New York by your own motherf*cking people. Where the f*ck your jury at?"
"I'm on your hips too by the way. Ima find you. Why you posting me on your Instagram? You supposed to be posting Slim400, he's the one that stopped your b*tch a** from performing yesterday."
YG is yet to respond to Tekashi's latest comment.