Tay-K's "The Race" Video & Lyrics Are Reportedly Being Used As Evidence In Murder Case
23 July 2019, 16:56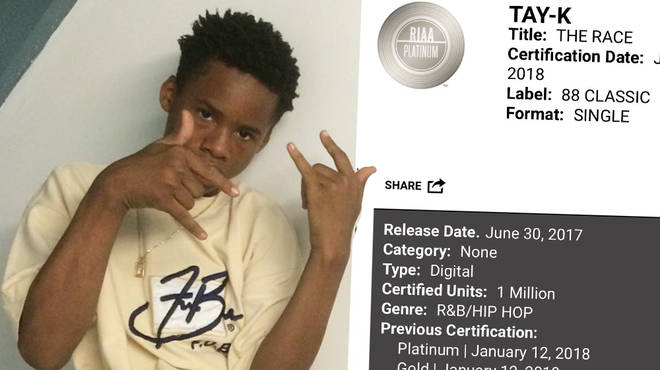 Californian rapper Tay-K's "The Race" video & lyrics are reportedly being used in court as prosecutors evidence.
Tay-K was found guilty of murder and three counts of aggravated robbery at a court in Texas last week. The 19-year-old's best known for the track "The Race" which was released in 2017.
The Californian rapper who was found guilty of the murder of 21 year-old Ethan Walker, could potentially face more time as his lyrics and video to "The Race" has been used in court.
According to The Fader, "The Race" video and song could potentially dictate how many years he will spend in prison. The song was released in 2017, months after the rapper had cut off an ankle monitor and gone on the run.
Prosecutors reportedly the music video in full for the jury on Monday afternoon (22nd Jul). The video displays Tay-K standing in front of his own "Wanted!" poster while putting up gang signs and flashing guns at the camera
The lyrics of the song were also shown to the court. The prosecutors used images from Tay-k's social media accounts, including images of him pointing a gun at the camera and the cover artwork for his Living Like Larry EP.
The photos, lyrics, and the video were all obtained by the witness at the direction of the prosecutors.
Tay-K is one of seven teens accused in the 2016 murder of 21-year-old Ethan Walker, during a home robbery in Tarrant County, Texas.