Snoop Dogg Reflects On "Special Moments" He Experienced While Working With Tupac
17 July 2019, 11:02 | Updated: 17 July 2019, 16:15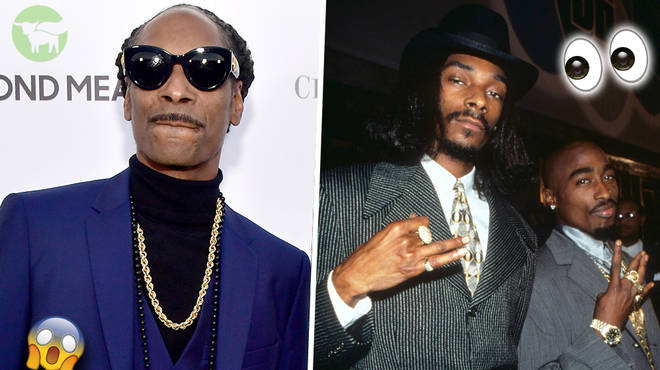 Snoop Dogg has opened up about working with late legendary rapper Tupac. The West Coast rapper reveals the special moments he shared with Pac.
Snoop Dogg has revealed new details on his relationship with the late legendary rapper Tupac in a new episode of Crook's Corner. Californian rapper KXNG Crooked caught up with Snoop in the studio to talk about his upcoming LP I Wanna Thank Me.
In a bonus clip of the interview, the two share a moment — reminiscing on a time they were both in the studio with the late Tupac Shakur.
In the clip, Crooked I reflected on the moment where he caught Tupac and Snoop Dogg together. He said "I walked in there and seen y'all two standing at the booth. I was like, damn, I can't believe this shit," Crooked I told Snoop.
He continued "It took my mind to a whole nother place. Like they can, maybe you can make it one day."
Crook explained that at that moment, the pair were in the studio recording the audio for their 1996 St. Ides commercial.
The "Halfway Me" rapper realised in a deep trial of thought that he "was lucky and blessed". He continued "I ain't know how blessed I was."
Snoop interjected "We never do. I didn't either … we never do. You know, we always got hindsight when we look back at it and be like those are some precious moments" said Snoop.
Snoop reflected on Tupac's comedic side and revealed how funny Pac. He opened up "I remember those moments with him more being about fun than work. Like he would always let it be fun".
The West Coast rapper also broke down how Pac's ethnic inspired him to do better.
Snoop said "Back then, you'd make a record, you listened to it for a week and you just keep listening to it. [He'd] make a record and be like, 'All right, we heard it move onto the next one,'" Snoop added.