Here's The Real Reason Ray J Surprisingly Quit Celebrity Big Brother After One Week
11 January 2017, 10:29 | Updated: 11 January 2017, 10:39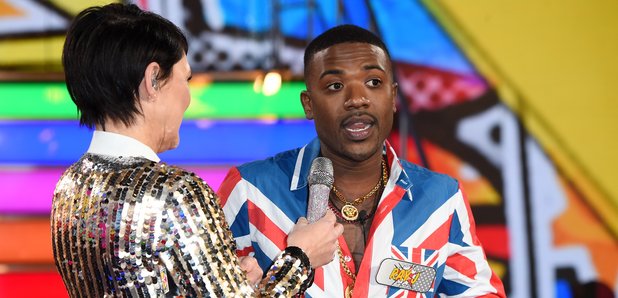 Ray J has been kicked out!
Ray J has reportedly been forced to leave Celebrity Big Brother after only one week because of "unbearable pain" caused by a tooth abscess, a cracked filling and a severe gum problem.
The singer, who was paid a record-breaking $1m to appear on the show, reportedly blacked out from pain while leaving the house to receive hospital treatment.
"I have a bad tooth problem and I've been doing this show Big Brother in London and I've been complaining about my tooth for about three and a half days now," he told TMZ via FaceTime.
"It got to the point where some of the housemates felt like I was being ignored, we took petitions to say "We're not doing any more tasks until Ray J's tooth gets fixed.
"I've got a cracked tooth where I need a filling fixed, I've got a gum coming over my other tooth. I'm in a lot of pain.
"I end up in the hospital 45 minutes, they get me some nutrition and I eat some McDonalds and I'm cool, I'm literally fine, I'm ready to go back in the house and they won't let me back in."
"I'm really hurt by it because I felt like I was doing well. I was having such a good time. I felt like I was connecting with the British fan base, British audience.
"What's sad is they won't let me do the show any more they won't let me back in the house it's not fair to me."
Following the news of his exit, Big Brother tweeted:
Ray J has left the Celebrity Big Brother House #CBB pic.twitter.com/Z1ChKgaUh2

— Big Brother UK (@bbuk) January 10, 2017
According to TMZ, it's not currently clear whether Ray J will receive his full $1m fee, following his quick exit.
When asked if the would sue the show, he said: "I never like to do that because I'm a producer and I like to be on the same page as everybody, but this is just not fair.
"And if I have to take those precautions I will. I don't even care about my tooth. Put me back in the house and let me work."
During his time in the show Ray J called out his ex-girlfriend Kim Kardashian, claiming she cheated on him during their relationship.
He is also made claims that he attempted to sneak his phone into the house up his bum.
The singer lasted a total of eight days in this year's Celebrity Big Brother house.