Paris Jackson Addresses 'Suicide Attempt' After Alleged 911 Call Leaks
20 March 2019, 11:46 | Updated: 20 March 2019, 11:47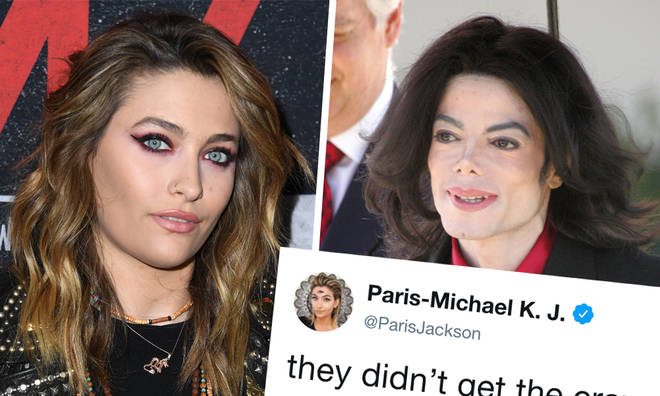 The 911 call made after Michael Jackson's daughter Paris reportedly attempted suicide was released and was met by an angry response on social media.
Paris Jackson has been locked in a battle with the media in recent days after it was claimed the 20-year-old made a suicide attempt in her Los Angeles home just weeks after the release of the controversial Michael Jackson documentary 'Leaving Neverland'.
Despite the recording of a 911 call reported to be taken from when police were sent to her home reportedly to attend to a potential attempted suicide, Paris Jackson has continued to deny all the claims and labelled them "pathetic".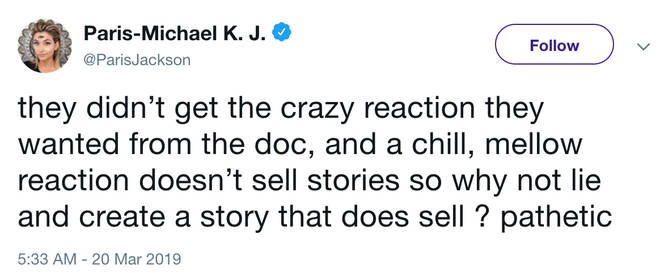 In a defiant tweet addressing the stories to her 1.35 million followers, Paris wrote, 'they didn't get the crazy reaction they wanted from the doc, and a chill, mellow reaction doesn't sell stories so why not lie and create a story that does sell? pathetic'.
The recording of the 911 call, which the Daily Mail published, sees police being informed that "a possible VIP" could be involved and it's claimed that the person in question is Paris Jackson.
Earlier this week Paris was accused of falling asleep at the wheel of her car but hit back at those claims as lies too and revealed the truth behind the pictures circulating online on Twitter.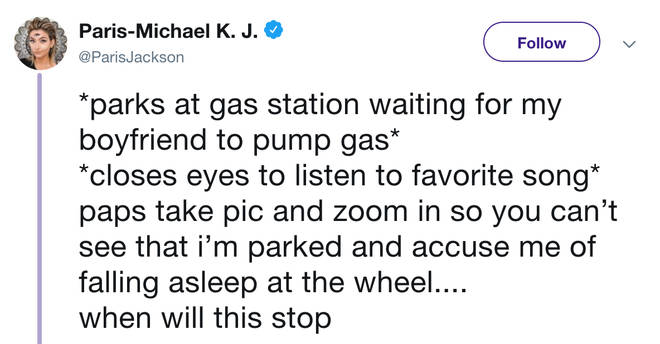 She wrote, '*parks at gas station waiting for my boyfriend to pump gas* *closes eyes to listen to favorite song* paps take pic and zoom in so you can't see that i'm parked and accuse me of falling asleep at the wheel.... when will this stop'.
The 20 year-old daughter of Michael Jckson has faced intense media scrutiny sonce the 'Leaving Neverland' documentary aired and it may be set to continue after the documentary's director Dan Reed spoke about plans for a potential sequel.
> Download Our Free App For All The Latest Music News!