Migos new album Culture III: release date, songs, features & more
11 June 2021, 12:28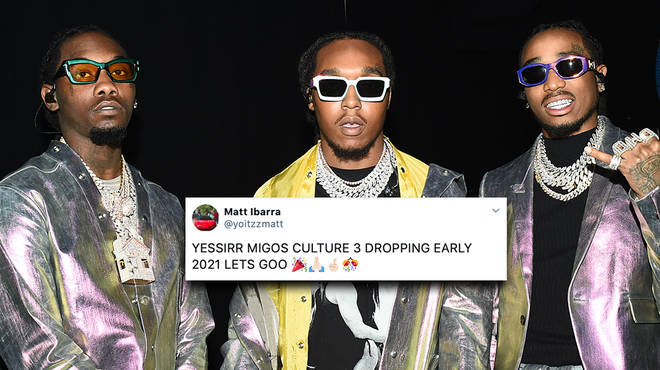 Migos have dropped off their highly anticipated album Culture III. Here's everything we know about the project.
Migos have finally dropped their hotly-anticipated album Culture III on Friday (June 11).
The rap trio's fans are impressed as the album matches the level of its predecessor, Culture II, which dropped back in 2018.
Culture II is Migos third studio album, the second of their 'Culture' series. The project featured hit tracks such as "Walk It Like I Talk It" and "Motorsport".
Find out more about Culture III below.
When is Culture III dropping?

In May 2021, Migos announced that the album would be dropping on 11th June, 2021.

A Quality Control Music statement posted on their Instagram read, "June 11th. We're Back," before fans flocked to the comments section in delight.

"June 11th. We're Back".

Picture: Instagram/@migos

On Monday (Jun 7) Migos unveiled their album artwork to fans, while teasing their release date.

One fan joked: "did virgil design this bro?", while another fan wrote "The cover ain't it hope the album slaps hard".

The cover art received mixed reviews, nevertheless, fans are still excited to hear new music from the rap trio.

Migos unveil the artwork for their 'Culture III' album.

Picture: Capitol Motown Quality Control

On Wednesday (May 19) Quavo, Offset, and Takeoff revealed they are partnering with experience curator Pollen Presents to bring Culture III to Las Vegas.

The three-night getaway will take place from October 14 to the 17th. It includes a busy itinerary of events including a star-studded lineup, pool parties and club takeovers, and a headlining Migos Culture III performance.

In an Instagram announcement post, the group wrote: ""Migos is heading to Sin City in October! 3 days and nights of pool parties, club takeovers, special guests and Migo nights! Expect the unexpected".

More information on rooms and prices can be found on the Pollen Presents website.

In April 2021, Quavo confirmed that the album was going into it's mixing stage.

In a recent interview, Quavo spoke to Kevin Durant about the upcoming Migos album on ETC's podcast.

The rapper said "This year, you know, we had to push back a lot 'cause of COVID," said Quavo.

"Right now we just waiting on Culture III. We done with the album, we just waiting on 2021, so everything can crank up. We don't wanna drop it right now."

Quavo added "We want the commotion, we want to move, we want to be outside. We want to drop it and go on tour."

Quavo revealed that he wants Culture III's release to have the full impact.

"We want to have an album listening and have people in the thang and really hearing the album, like, I can't drop no album and let the internet judge my album," the rapper added.

"It just don't make sense. I just want to be with the people. I want to touch the people and that's what we gon' do at the top of the year."

Offset, Quavo and Takeoff are set to be releasing their new album in 2021. Picture: Getty

Earlier this year in April, Quavo revealed the group may be releasing a mixtape, then the album.

"Quarantine Mixtape?? Jus To Keep Y'all Straight," wrote Quavo, on Instagram.

He continued "Then Culture III. When All This Is Over! Y'all F*ck Wit That? Cuz We Ready To Drop. ASAP. Original Migo Mixtape!!! Day 1 Sh*t."

However, Migos have not yet dropped a mixtape and seems to be focusing on the release of their album.

What is the tracklist for Migos new album?

The group released the official tracklist on their Instagram last night (June 9) and there are lots of exciting features, from Pop Smoke to Justin Bieber.

Avalanche
Having our way (feat. Drake)
Straighten
Type Shit (feat. Cardi B)
Malibu (Feat. Polo G)
Birthday
Modern Day
Vaccine
Picasso (feat. Future)
Roadrunner
What you see (feat. Justin Bieber)
Jane (Birkin)
Antisocial (feat. Juice Wrld)
Why not
Mahomes
Handle my business
Time for me
Light it up (feat. Pop Smoke)
I need it (feat. NBA YoungBoy)

The group released the official tracklist on their Instagram.

Picture: Instagram: @migos

What songs are on Culture III?

The group released the official tracklist on their Instagram last night (June 9) and there are lots of exciting features, from Pop Smoke to Justin Bieber. See the full trackless above.

On Wednesday (May 12) Migos member Offset took to Instagram to reveal the Hip-Hop group will be releasing their first single off the new album on Friday (May 14).

The track, titled "Straightenin" will be dropping at midnight. The artwork for the track features the three Migos members. See below.

In April 2021, Quavo released some behind-the-scenes footage from a recording studio showing the trio laying down some vocals.

Quavo and Takeoff can be seen going back and forth on some phrasing, before Offset fires off some bars in the booth.

Earlier this yer, Offset previewed a song rumoured to be on the album following Quavo's split from Saweetie.

Reportedly titled 'Modern Day Stroll', the song hears Offset spit on his verse, "Big body Urus/ Fast & The Furious/ Grippin' my mack, watch the rear in my mirror/ Ice on my neck, on the lear, I'm superior/ 250 each year, what you say? I can't hear you,"

"Culture 3," he captioned the post, which was also accompanied by a snippet of a suspected music video.

Quavo also dropped a teaser from an upcoming music video for a song potentially featured on the new album.

Is Migos new album called Culture III?

While many fans assumed Migos will continue with their Culture series, the group claimed they were planning on changing the name completely.

During an Young Money Radio interview with Lil Wayne, Migos opened up about their upcoming album.

"We ain't dropped in about two years," said Offset.

"We're just warming up," Quavo added, while confirming that "Need It" with NBA YoungBoy, will be on the album.

"We gon' change the name. We gon' push Culture III, the title, back. We changing the name this time."

There has been no clarification on the album title as of yet.

Who will Migos collaborate with on the album?

According to Genius tracklist, Travis Scott makes two appearances on the album, on track "Speaking of the Devil" and "Give No Fxck".

Young Thug also features on the Migos track titled "Give No Fxck".

On Thursday (Mar 24) Producer Murdabeatz revealed he was working with Migos.

The famous Canadian producer shared a photo of him working with the rap group in the studio.

Quavo says Culture III will be the "greatest album of this year."

In an interview with Complex, Quavo tells fans what they have to look forward to with Culture III:

"Greatness. The greatest album of this year. The greatest album of the summer.".

He continued:

"We've been going through this pandemic for like a year and a half. So, we're coming back with Culture 3. We haven't dropped any music in three years. The year that we was going to drop, the pandemic hit. So I just feel like it's a breath of fresh air".

2017 BET Awards - Arrivals. Picture: Getty

When discussing features the rapper says: "We got some good guys on there. We got our good friends on there"

And whilst he didn't share whether Bobby Shmurda would be featured, he did say "We got a really, really, really hard record with Pop Smoke.".

The Bad and Boujee rapper lets us know this Summer it's going to be all eyes on Migos, saying:

"it's been three years. It's time to take control and bring the spotlight back to the stage.".