Megan Thee Stallion Shares Heartbreaking Tribute Video Following Her Mother's Sudden Death
15 April 2019, 15:49 | Updated: 15 April 2019, 15:50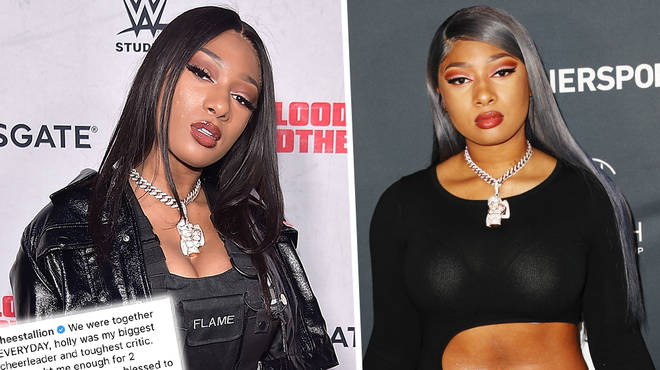 Megan Thee Stallion takes to social media to honour her mother who recently passed away, with a heartbreaking tribute...
Just last month, rising star Megan Thee Stallion took to Instagram to inform her fans that her mother had passed away, with a heartbreaking tribute post.
The Houston-bred rapper opened up about her mother's death due to brain cancer, that was devastating to her entire family. In her first upload, Megan revealed that her mother was the "strongest woman on the planet".
Megan has returned to Instagram with another post remembering her late mother.
Over the weekend, the Houston rapper put together a video for her fans to tribute her mother, posting it to her page and writing a touching statement.
The video shows moments of the pair together, including behind-the-scenes bonding at the "Big Ole Freak" shoot, footage taken before concerts, and more. Our thoughts and prayers are with Megan at this difficult time in her life. You got this.
Megan captioned the photo with a lovely heartfelt message updating her fans on how she feels about her mothers recent passing. Megan wrote: "I didn't get to show the full video I had of my mom and I last night at my show but here is some of it," said Megan Thee Stallion after she presented a portion of memories on stage.
She continued: "I still really don't believe she's not physically here with me...but every day I wake up I still act like she is. Before every show I just imagine what she would say to hype me up and I make sure I go kill shit. I love you Hollywood".
Megan Thee Stallion's mother, Holly Thomas, was also a rapper, who went by the name Holly-Wood. The mother-daughter duo was together every day. Megan's mother supported and helped Megan to become an established rapper over the past few years.
The star began writing her own raps at age 14, following in her mothers footsteps of becoming a rapper. her mother played a big part in Megan's self discovery as an artist and she was inspired by her mother.
Megan told Essence, that her early passion for music developed while sitting in on many of her mother's studio sessions.
>
>
>