Lil Xan Sparks Outrage After Yelling The "N" Word During Taco Bell Rant
11 October 2018, 13:13 | Updated: 11 October 2018, 13:16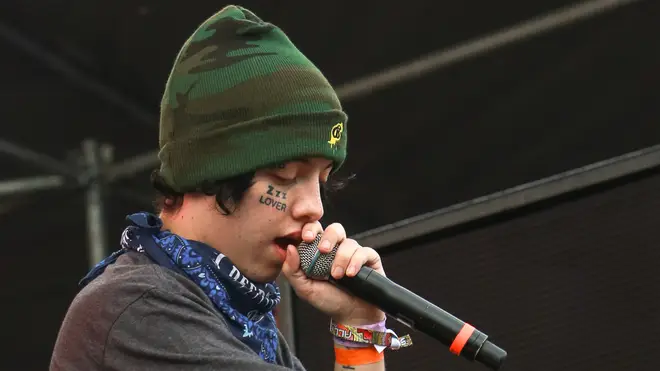 Lil Xan has sparked a debate after yelling the "n" word multiple times on camera...
Lil Xan has sparked outrage after appearing to yell the "n" word during an expletive rant inside a shopping mall food court in Indianapolis.
The rapper, who previously claimed Tupac was "boring", is under fire from fans for his use of highly-offensive language when talking to a fan.
In the footage obtained by TMZ, Lil Xan is seen in a confrontation with another person, yelling: "I'm rich, n*gga! You a broke ass n*gga. Broke ass b*tch."
Watch the footage here.
According to the publication, Xan started arguing with another customer after ordering food at Taco Bell.
Someone reportedly threatened to call the police but Lil Xan was escorted from the situation before things escalated further.
After the footage went viral, fans took to Twitter to react to the controversial footage.
See some of the reactions below:
nobody should be shocked that lil xan says the n word but everyone should be collectively cringing at him trying to act hard in the middle of a food court of a random ass mall

— 👻spooky codi👻 (@industrypIant) October 10, 2018
lil xan screaming the n word in a mall food court is ......realllly something

— ash loves sky (@cannonsingle) October 10, 2018
How is Lil Xan still relevant?? Just saw a video of him getting in an altercation, along with him yelling the N word. smfh

— DJ Slipped Disc (@KraymerGdot) October 10, 2018
Welp Lil Xan called someone the N word so whatever rap career he thought he had is gone even more

— Mickey Jesus (@MessiahMickey) October 10, 2018
Lil Xan was yelling the n word in public? LMAOOOOO i hope that's the end of his career finally

— I'm not good luv... 🐍🦅 (@bernith_) October 10, 2018
Bet @lilxanfuhyobih was minding his business & that dude ran up on him & started saying some disrespectful shit n noone gonna take that so he gon say some shit back, u just caught him on vid shoutin & not what happened b4 everythin went down. He was wrong for sayin the n word tho

— JSM (@thejordanmiIler) October 10, 2018
Lil Xan has also been in the news recently after claiming to be hospitalised because he ate too many Flaming Hot Cheetos.
The rapper also recently broke up with girlfriend Noah Cyrus.