Lil Fizz And Apryl Jones 'Exposed' By His Baby Mama In Savage Expletive-Filled Rant
17 September 2019, 16:23 | Updated: 17 September 2019, 16:24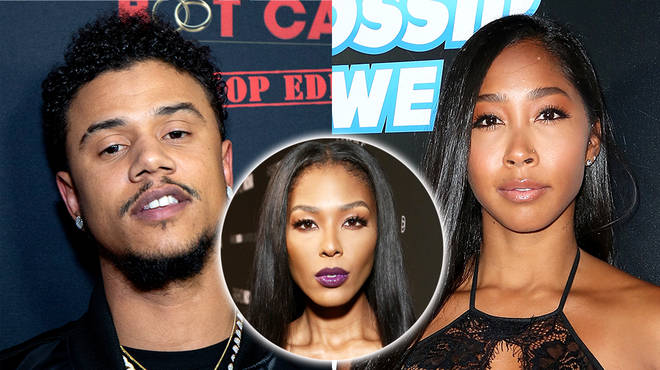 Lil Fizz baby mama Moniece Slaughter has exposed him & Apryl Jones for neglecting her cries out for help. She claims her baby father Fizz is unsupportive to her, but supports Apryl.
Lil Fizz baby mama Moniece Slaughter has taken to Instagram after a new clip has emerged from Love & Hip Hop. The mother of the former B2K member's son, has addressed Lil Fizz alleged relationship with another cast member Apryl Jones.
April Jones is the mother of Omarion's two children, who used to also be apart of the R&B boy band B2K. Although many fans deem Apryl and Fizz's relationship as being disloyal to Omarion, considering he used to be friends with Lil Fizz.
In the new Love & Hip Hop clip, April Jones reveals the history behind her and Fizz's relationships. Apryl explained that Omarion came home one night and didn't want to be with her anymore.
She said "I cannot tell you why we're not together, I have no clue" "I didn't see anything coming, he came home one day and everything was just different" "He just, didn't want to be in a relationship with me anymore".
April Jones admitted that when Omarion didn't want to be in the relationship anymore, Lil Fizz stepped up to the plate.
Jones said "Dreux has been there, when I am deranged, when I have not had no sleep, when I'm falling into a depression, when I'm literally about to lose my mind". Jones then goes on to say she would not have been here if it wasn't for Dreux supporting her.
However, Moniece Slaughter had some things to say about Dreux being there for April, but not being supportive towards her.
Moniece took to Instagram and responded to April saying "Damn I was dying too. BECAUSE OF DREUX. 102lbs. Not sleeping. Not eating. Depressed" on Instagram.
Lil Fizz baby mama went on to explain that Dreux was there picking up Apryl's pieces while not giving Moniece the support she needed.
She then revealed that she called Apryl to get ahold of Dreux and begged for their help. Moniece claimed that Fizz told her to "figure it out".
Moniece continued on to say Dreux was totally unresponsive to her cries for help when she was in a dark space, however continues to support April Jones.
See Moniece's response in full above.