Kylie Jenner's New Walnut Face Scrub: Here's Why The Internet is So Angry About It
20 May 2019, 17:15 | Updated: 21 May 2019, 09:07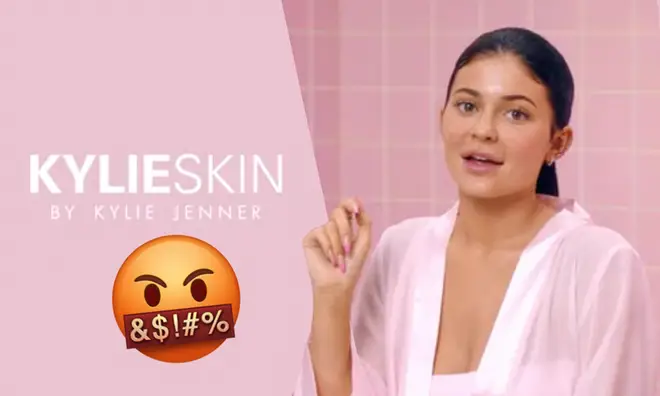 Kylie Jenner has been selling lip kits and other cosmetics products for years now, but the new Kylie Skin walnut face scrub has got people genuinely angry.
As a self made billionaire with one of the biggest cosmetics brands in the world, Kylie Jenner clearly knows a thing or two about what people want - but it seems as though her powers could be fading as she's currently facing a huge backlash over a new product.
Launching a walnut face scrub with her new Kylie Skin brand, the average person who doesn't know their serums from their lotions could be forgiven for missing this less-than-obvioust fact, but it turns out that people claim walnuts are actually bad for your skin...well in a face scrub anyway.
Kylie Skin was supposed to be Kylie Jenner's next big thing but its already been hit by these controversial claims. Whilst there are two other less controversial new products being released - a vanilla milk toner and a Vitamin C serum - the walnut scrub is facing a serious baclash.
There are differing opinions on walnut face scrubs, with some people claiming they're a great exfoliator whilst others will state that the tiny pieces of walnut in the scrub are actually damaging your skin. So what's the truth?
Well most people recommend speaking to a dermatologist before using a walnut scrub due to its potentially harsh effects, but the amount it will affect you will depend on the environment you live in and plenty of other factors.
The walnut in the scrub acts as an exfolitaor which removes dead skin cells from the area you apply it, in this case your face, Like many other exfoliators, walnuts can often be too harsh for someone's skin and have regualarly been slammed by critics.
In the promo video for the Kylie Skin walnut face scrub, Kylie states, "It's really gentle - gentle enough to use every day. I'd recommend two or three times a week, that's how much I use it. Some walnut face scrubs are kinda harsh on the skin. This isn't too abrasive...it really leaves my skin feeling super baby soft, just makes you look glowy, takes away dead skin cells".
Kylie goes on to claim, "My walnut face scrub is my secret to a fresh face". The good people of the internet weren't taking Kylie's word for it though and made their feelings very clear on Twitter...
If you really believe that Kylie Jenner's skin looks the way it does from using her new skincare line, then you deserve the consequences of a walnut face scrub

— Glitter Titties (@kelli_michelle7) May 13, 2019
PSA: don't buy Kylie jenner's walnut skin scrub. Walnuts and other nuts are too abrasive to exfoliate your face and instead you end up with micro tears on your skin. Which leads to wrinkles and premature aging.

— teresa giudice (@drnkbleachdaily) May 12, 2019
kylie jenner trying to destroy everyones skin with her walnut face scrub so that everyone needs to buy her makeup to cover it... a true businesswoman

— ㅤㅤ! (@robbytschiember) May 15, 2019
So with Kylie claiming this new Kylie Skin walnut face scrub is 'gentle' whilst others are saying it should be avoided like the plague, what are we to do? *sigh*
> Download Our App For All The Latest Entertainment News!