Kylie Jenner Trolled For 'Tricking Fans' With Kylie Skin Advert Gone Wrong - WATCH
31 May 2019, 15:54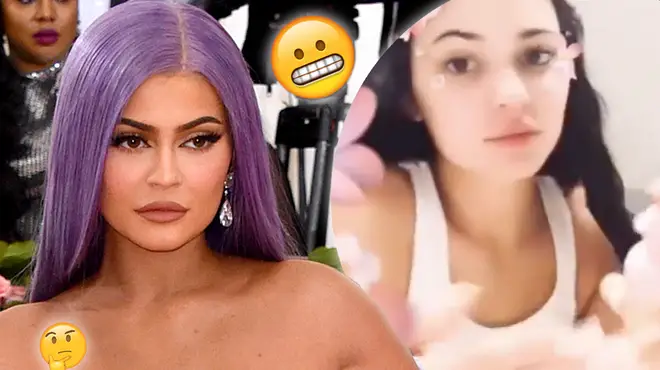 Kylie Jenner has gotten brutally trolled for her Kylie Skin snapchat tutorial 'fail'. Many fans are critical of the face wash skin care tutorial.
Since Kylie Jenner launched her own skincare line 'Kylie Skin', some of the products she has released hasn't been received well. Kylie's Walnut scrub has been slammed by skincare fans for being 'harmful' to the skin.
The bad attention for the brand has furthered, since Kylie took to Snapchat to do a mini tutorial for one of her products. The "self-made billionaire" has been getting trolled for washing her face for a short period of time and using a filter during her tutorial.
Skincare fans are calling Kylie out for her face washing techniques. They also can't stand the fact she used a face smoothing filter during her mini tutorial.
One Twitter user wrote: "@KylieJenner showing off her #Kylieskin face wash on insta and dried her face and what's all over the towel? MAKE UP."
Mam, the filter defeats the purpose of us seeing whatever effects your product has done to your skin...

— Shrike (@Shytiger0) May 29, 2019
During the video, many fans noticed that Kylie washed her face with her product, then dried her face on a towel and make up still came off.
No hate I love me some Kylie Jenner but do you research before you buy her skin products, phenoxyethanol is probably one of the most common ingredient in ALOT of skin care that is super harmful AND any serum should have less than 5 ingredients, and most def not start with water💕 pic.twitter.com/a4oUXNI7yc

— sis (@spagetsis) May 22, 2019
Many other users pointed out the fact the reality star used a snapchat filter throughout the whole video, which gives an airbrush skin effect.
One user wrote: "You washed your face for 2 seconds. You're using a filter. You still had makeup come off on the damn towel. LEARN HOW TO WASH YOUR FACE. God damn. How hard is this? Basic hygiene y'all"
I can't respect the fact Kylie Jenner promoted her face wash wearing a filter and foundation. It's getting ridiculous now.

— 🌸 QUEEN 🌸 (@nakzxox) May 30, 2019
Another chimed in and said: "No hate or anything but I'm actually interested in knowing how Kylie Jenner washes the rest of her body 📷📷Does she whizz through it like she does her face ?".
Many fans believe Kylie should put more thought and effort into her skincare and seem a lot of room for improvement