Kylie Jenner Fuels More Pregnancy Rumours With New Halloween Costume - WATCH
1 November 2017, 12:08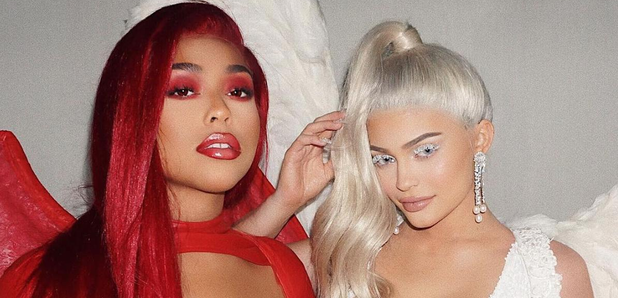 Is she pregnant? Is she not pregnant?
Kylie Jenner has continued to tease her pregnancy with boyfriend Travis Scott's baby, with carefully edited coverage of her 2017 Halloween celebrations.
The 20-year-old 'Keeping Up With The Kardashians' reality star shared a series of Instagram pictures and Snapchat videos of herself in costume.
However fans are convinced that she is attempting to hide her rumoured pregnancy bump, after she conveniently kept her lower half out of all footage.
Fans took to Twitter to tell their various conspiracy theories about Kylie Jenner's pregnancy.
When has Kylie Jenner ever given up the opportunity to show off her body especially on Halloween?? She's definitely pregnant

— rosé (@krasotav) November 1, 2017
Kylie Jenner not posting pictures in an extra Halloween costume pretty much confirms her pregnancy

— AMBER (@mrsdebunt) November 1, 2017
Kylie Jenner only posting halloween pictures of her boobs and up.. Just tell us you're pregnant already

— alex baca (@aleeeexbaca) November 1, 2017
So Kylie Jenner did dress up for Halloween but only posts pics from her boobs up she's preggers

— Heather (@heathersc_) November 1, 2017
Halloween and there are no full body costume pics from Kylie Jenner!? I think this is like....FORREAL. Or a really good playa.

— ✞Americana Exotica✞ (@ggiantii) November 1, 2017
Halloween has confirmed for me hat Kylie Jenner is pregnant

— Melly (@mellllyox) November 1, 2017
Fans were also convinced about her sister Khloe's pregnancy, after her baby bump appeared to be revealed in a Snapchat post.
Meanwhile, it was recently revealed that the Kardashian family signed a new deal with E! for $150 million.
Kylie was reportedly earn the fourth most, following her sisters Kim, Khloe and Kourtney.